Turkey Trot Draws Thousands for Austin Thanksgiving Tradition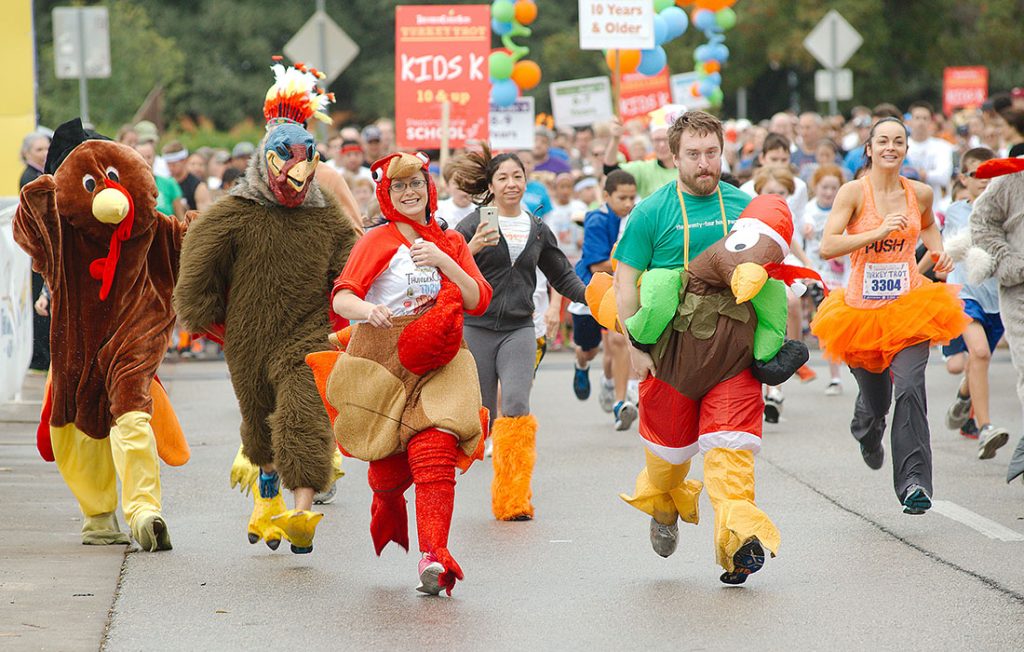 Long Center for the Performing Arts, November 28
Maybe it's the cooler temperatures, but there's something about this time of year that brings out the best in people. It's the season of giving, filled to the brim with holidays and events that connect us with the people we love. If you're searching for a way to join in on the festivities, look no further than the annual ThunderCloud Subs Turkey Trot, a community tradition and unofficial kickoff to Thanksgiving. Starting and finishing at the Long Center for the Performing Arts, 20,000 runners in turkey-inspired costumes will dash across Austin on a 5 mile course, including a quick visit to the Capitol. Upon their return, a post race party will be waiting with live music, runner awards and a raffle, including a brand-new car. If 5 miles isn't a fit, there will also be a 1 mile walk available and a Kids K perfect for energetic little ones.
Better yet, every cent collected will be donated to longtime local beneficiary Caritas of Austin, which has generated a staggering $3.8 million since the event's inception, in 1991. Through its mission to prevent homelessness in greater Austin by providing stable housing, access to food, assistance for veterans, employment and training opportunities, the nonprofit wholeheartedly embodies the spirit of generosity. This year, the organization has set out to beat last year's total by raising more than $35,000.
Before settling down around tables of tempting holiday meals this November, relish in a trot well run and feel even better on the inside knowing you've helped improve the lives of your neighbors in need.
Turkey Trot
701 W. Riverside Dr.
Austin, TX 78704
(512) 474-5664