Local Gyms for Every Type of Fitness Lover
By

Emerson Taylor
January 18, 2023
Whether you're a yogi, Pilates lover, weightlifting pro or exercise newbie, Austin's health and fitness scene has something for everyone. Check out Tribeza's list of favorites to discover the workout that will leave you feeling your best.
Castle Hill Fitness
1112 North Lamar Blvd.
Perched on the corner of 12th and North Lamar, Castle Hill Fitness recently marked 20 years of creating a welcoming environment for their members. Complete with a healing and recovery-based spa, Castle Hill provides a wide variety of options for any kind of gym-goer. The centrally located gym can also offer exercise fans the perfect personal trainer, an elevated Mat Pilates class or an online Barre Sculpt session.
---
Crux Climbing Center
121 Pickle Road #100
Founded by local Austin climbers, the team behind Crux has made it their goal to go above and beyond the traditional climbing environment by adding reconfigurable terrain, 24-hour gym access, lounge areas and top-of-the-line retail and equipment. Thanks to a plethora of group climbing classes and private lessons, plus strength and conditioning training, Crux is the place to be for both experienced climbers and average Austinites searching for a new type of movement.
---
Kawī Crossfit
4812 East 7th St.
Calling all CrossFit junkies! Kawī Crossfit is determined to help people get fit, no matter their age, size, strength or experience. Kawī means strength in Arabic, and strength is the foundation of everything the Kawī team believes in — a strong mind, body, spirit and community. With a high-intensity exercise plan that changes daily and is adjustable to each person's specific needs, the Kawī community is fired up every morning to test their limits.
---
LOVE Cycling Studio
2609 Perseverance Dr.
The power of music is at the heart of everything for LOVE Cycling. Riding to the beat of the rhythm with tapbacks, speed intervals, crunches and weighted arm workouts, class participants are sure to hop off the bike feeling euphoric, challenged and ready to sign up for their next ride. As the only cycling studio in Austin with a state-of-the-art video wall, LOVE offers artist and genre-themed classes accompanied by full music videos streaming behind the instructor's bike.
---
Hyde Park Gym
4125 Guadalupe St.
Perhaps you know them because of "The Arm," a statue of a massive bicep with a shadow that looms over Guadalupe Street, or maybe it's due to the fact that they represent a groovy piece of Old Austin. Either way, Hyde Park Gym is an iconic neighborhood spot for lovers of weightlifting, powerlifting, sports performance and more. Members can expect to hit the weights with an Olympian to their left and a bodybuilder to their right.
---
Black Swan Yoga
913 East Cesar Chavez St.
On a mission to cultivate an inclusive yoga experience rooted in accessibility, affordability and community, Black Swan Yoga encourages a student-focused atmosphere where all are welcome to rest and enjoy their practice. As a donation-based company, yogis are invited to partake in an array of 90-degree heated classes, including Power Flow, Candle-lit Meditation and traditional Ashtanga, for whatever dollar amount they see fit, no strings attached.
---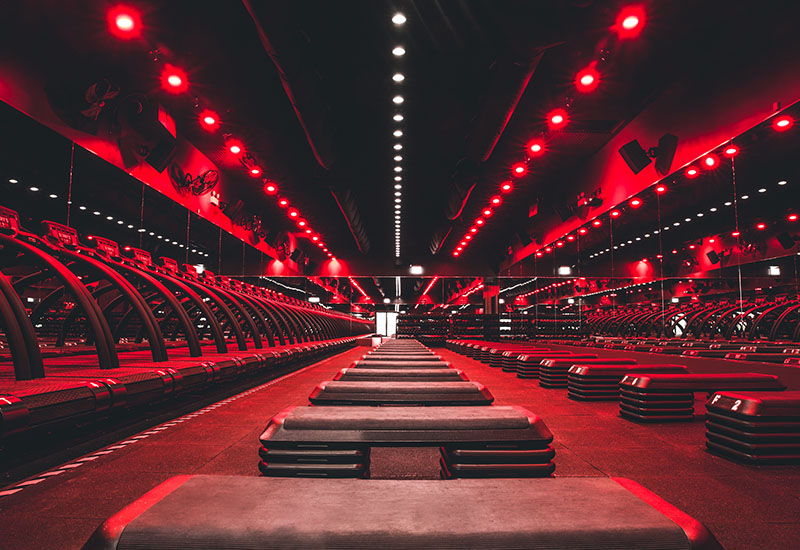 Barry's
408 West 2nd St.
Home to the self-proclaimed "Best Workout in the World," Barry's recently brought their "work hard, play hard" mindset to the heart of downtown Austin. Barry's locations span from their original studio in West Hollywood to Milan, Singapore and Ibiza, making their signature HIIT workout a worldwide sensation. Immersed in the glow of red lights and pulsating music, guests will follow an instructor-led 50-minute cardio and weight training class that targets muscle groups or the full body.
---
Rō Fitness
74 Trinity St.
Rō Fitness gives you a high-calorie full-body burn, while remaining a low-impact workout. Founded by former collegiate rowers at the original Waller Creek Boathouse location nestled against Lady Bird Lake, classes are an exciting, competitive and unique experience that can't be found anywhere else in Austin. When weather permits, classes at the downtown location are held outdoors, allowing rowers to work up a sweat while taking in views of the skyline reflecting over the lake.
---
CorePower Yoga
801 West 5th St.
Established on the pillars of Balance, Community, Practice and Everyone, CorePower Yoga is dedicated to fostering an inclusive and diverse space that offers classes of all levels and intensities, including Yoga Sculpt, Hot Power Fusion and Vinyasa Flow in the studio, via live stream and on demand. Additionally, the first week of classes is free, allowing visitors to enjoy a week of unlimited classes with zero commitment.
---
Pure Pilates Austin
2222 Rio Grande St. #105
The movement trend that first hit its stride back in the 1980s is popular again in 2023. Megaformer Pilates, known for its full body burn utilizing resistance and body weight, focuses on exercises that build core strength, all while toning muscles and improving flexibility, balance and mental endurance. Pure Pilates is a boutique fitness studio, promising intimate class sizes and personalized instruction to help people achieve their health goals.
---
TruFusion
4211 South Lamar Blvd.
From Soulful Sunday Yoga to Down 'n Dirty Bootcamp, TruFusion has options for everyone. Powered by the belief that fitness isn't just one universal size, shape or number, expert instructors lead both heated and unheated results-driven group classes to inspire participants to transform their bodies and minds. With yoga, pilates, kettlebell, cycling, barre and boxing, TruFusion is ready to welcome gym-goers into their space with open arms.
---