A Christmas Affair Virtual Market Gives Austin Shops Hope Amid COVID-19 Pandemic
The Junior League of Austin and participating merchants persevere to pull off the iconic holiday tradition
In the weeks before A Christmas Affair, The Junior League of Austin's annual holiday tradition, merchandise is set aside, ready to be loaded into the sprawling marketplace. Business owners and staff are excited to see favorite their customers. Thoughts of which products will sell out and need to be restocked are dancing in their heads.
Of course, like so much in 2020, this year will be different. Instead of packing into the Palmer Events Center, The Junior League of Austin and more than 150 local, regional and national retailers were challenged to find creative ways to bring A Christmas Affair – and the 2020 theme, Felicidad – to life, while keeping everyone safe. The result is a virtual marketplace, open now until November 22, that supports local businesses and provides interactive experiences for online attendees. The reciprocal support between the League and the event's loyal businesses has been heartwarming in a difficult year for fundraising and retailers – proof that the holiday spirit thrives among those that have made A Christmas Affair possible for 45 years.
Tickets for virtual market entry are available now. Proceeds from ticket sales go toward the League's mission to support women and their communities by providing essential funding and volunteer hours for signature programs and local non-profits.
Adelante, a women's fashion boutique on 38th Street owned by Tricia Roberts, hasn't missed a year at A Christmas Affair in more than four decades since her family started the tradition of participating in the iconic holiday market. When COVID-19 forced Roberts to close the boutique for the second half of March and all of April, she and her team built an online shop, made sales through social media platforms and delivered goods using curbside pickup.
"The event is great exposure for my brick-and-mortar business, and I love supporting the League during their biggest fundraiser," Roberts says. "I wanted to support the League even though the market went virtual. Everyone has had to pivot their businesses, and virtual is a great way to keep things going."
Roberts' experience is familiar to many of the merchants represented at A Christmas Affair's first virtual marketplace.
The Tree House, which sells home goods, apparel and accessories, spa products and adorable items for kids, closed their Wimberley and Westlake stores to walk-in customers at the end of March until early May. Using funds from the Payment Protection Program (PPP), they were able to keep all employees paid during the shutdown and worked long hours to find ways to pay the bills despite the mountain of challenges.
Oh Yeah! Boutique, a gift shop and clothing boutique in Bee Cave, closed their storefront in March through mid-May, offering free local delivery as their business shifted to online sales.
Houston's DGZ Chocolates was in the middle of its largest event of the year – the Houston Rodeo – when COVID-19 hit. "We were already seeing much smaller crowds the first half of the event as concerns were growing about the coronavirus, and eventually the city shut down the event," one of DGZ's owners, Shelly Ostrofsky, recalls. "Although it was the safest move, it was devastating for us and many other vendors that rely heavily on the rodeo for our income. For the following two weeks, we turned our commercial kitchen into a pick-up location since we had thousands of pounds of toffee and chocolate leftover. The community rallied support for us and other rodeo vendors, and we were able to make up for some of the lost sales, and also donated some of our candy to local hospitals, teachers, firefighters and others."
Despite the initial recovery, more events in which DGZ Chocolates hoped to participate were cancelled, and their storefront remained closed through most of the summer. After resuming production of their toffees and chocolates in the fall, Ostrofsky hopes business will pick up as the holiday season nears, even if nearly all the events and markets they typically attend were cancelled or shifted to a virtual format.
"Having participated for a number of years in A Christmas Affair, many shoppers have come to know and love our toffee and seek us out every year," Ostrofsky said. "We couldn't imagine not participating in this year's A Christmas Affair – even if it looks a little different – to once again connect with Austin shoppers and continue the iconic holiday tradition. We know the League's event also brings a lot of fundraising dollars for the community, and we are proud to be a part of that effort."
Kailey Crow of Oh Yeah! shares that sentiment: "We look forward to A Christmas Affair every year as we get to see our regular customers in a fun, festive environment while also meeting many new customers," she says. "We chose to participate in the virtual A Christmas Affair as we adapt to our new normal, and we're so grateful to be a part of this annual tradition that kicks off the holiday season in style."
The idea of reaching customers that you usually see every year to give a boost in sales is a draw for business owners, and though everyone has learned to adapt it doesn't mean the changes are easy.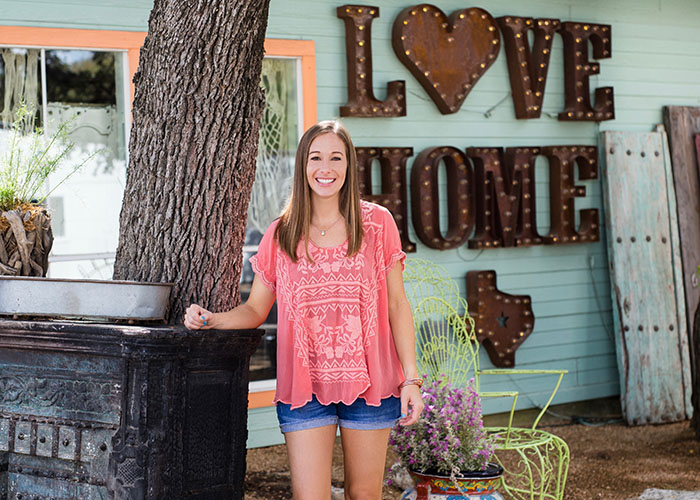 The Tree House owner Melynda Einhaus admits that the pandemic has negatively affected business every day since mid-March. With a one-of-a-kind inventory that is difficult to ship, and an all-female staff juggling work while caring for and teaching kids at home for months on end, it wasn't possible to switch to a fully online business model.
Einhaus recalls the long hours they've all worked – not taking a single day off even when the doors were closed – and the feeling of operating in survival mode.
"So many businesses have permanently shuttered," she says. "It's absolutely devastating to read the list of irreplaceable Austin small business gems that we have lost."
Still, there was no question as to whether or not to participate in this year's A Christmas Affair. "The needs of our community have increased exponentially during the pandemic, so fundraising events like A Christmas Affair are more important than ever in order to maintain the projects that help those in need in our beloved city," she says. "We feel lucky to be a small part of it."
In addition to the exposure the event provides for small and mid-size businesses, the Austin community directly benefits from the League's premiere fundraiser. All proceeds from tickets, party packs, auction items and virtual events from A Christmas Affair 2020: Felicidad help The Junior League of Austin carry forth its mission of developing the potential of women and supporting the Austin community by providing essential funding and volunteer hours to its signature programs – Coats for Kids, FIT – Food In Tummies and KICS – Kids in Cool Shoes –along with more than 30 local non-profits.
Tickets for the virtual marketplace, party packs for virtual events for the whole family, and information on each participating merchant are available at AChristmasAffair.com.