November Curated: Austin's Top 10 Events This Month
From food festivals to literary celebrations, illuminating art shows, holiday markets and more -- see this month's best local activities
Creek Show (photo by Suzanne Cordiero)
Cool breezes have finally blown in that true fall feeling here in Austin along with a bevvy of festivals, arts programming, annual celebrations and the start of some holiday sparkle. Take note of these top activities to add to your calendar this month.
Top Events This Month:
Austin Food and Wine Festival
Auditorium Shores
November 4-5
Austin Food & Wine Festival, now in its 12th year, is an indulgent weekend party that honors top-tier chefs, winemakers, bakers, artisan spirit-makers and a host of talent in the food and beverage industry. Enjoy a delectable selection of savory and sweet samples all day long. Learn kitchen and grilling skills from the upper echelon of experts. Engage in a variety of cooking demonstrations and conversations.
Austin Studio Tour
Various locations
November 4 – 19
Big Medium's 30th annual Austin Studio Tour is returning for three weekends in which 500+ galleries, home studios, and museums open their doors to the public for free. The first weekend features artists and galleries in Austin's Westside then moves to both West and East Austin for the second weekend. The third and final weekend takes place in Austin's Eastside. Check out the 13 stops we suggest making during the Austin Studio Tour.
Creek Show
November 10-18, 2023
Waller Creek at 700 E 9th St.
Stroll along downtown Austin's Waller Creek to join the community in viewing light-based art installations curated by Waterloo Greenway at their Creek Show event. Always an awe-inspiring experience featuring a dazzling array of works, Creek Show showcases locally-made illuminated art that is creatively displayed by the water's edge from 9th Street to Waterloo Park. This year, there will be six impressive works of art on view along with a vibrant lineup of live music. Take a peek at this year's art.
Austin Opera Presents Pagliacci
The Long Center
November 4 & 5
Experience the gripping tale of love and jealousy in Leoncavallo's Pagliacci, where a traveling troupe of commedia dell'arte brings to life a play mirroring their own secrets and desires. In Pagliacci, composer Ruggero Leoncavallo created a love quadrangle, with three men all fighting for the love and attention of one woman with manipulation, jealousy, and violence.
Texas Book Festival
Texas State Capital & South Congress Ave
November 11 & 12
This classic literary festival offers something for everyone, welcoming over 300 beloved authors to the grounds of the Texas State Capitol. Discover authors at readings, panel discussions and signings; exhibitor booths and food vendors; and family-friendly activities for readers of all ages. Check out our recommended reading list before you go!
The Book of Mormon
Bass Concert Hall
November 14-19
Ding dong! The winner of the Tony Award for Best Musical is heading to Austin to share the good news about a book that will change your life! Laugh along to the raunchy comedy, The Book of Mormon, brought to you by the same guys who created South Park.
Dinner x Design
Fair Market
November 15
Tribeza's Dinner x Design, presented by The Agency Austin, is an elegant event that features a gorgeous setting and delectable cocktails and cuisine. Join Austin's most sophisticated and fashionable guests on for an unforgettable Dinner x Design event that featuring a dynamic group of Austin's interior designers and chefs.
A Christmas Affair
Palmer Events Center
November 15 – 19
Join the Junior League of Austin for holiday shopping at their annual fundraiser, A Christmas Affair. The cosmic-themed holiday market will feature more than 200 vendors and artists, with proceeds going towards JLA's mission of empowering women and serving the community.
Blue Genie Art Bazaar
6100 Airport Blvd
November 17 – December 24
The Blue Genie Art Bazaar is a fixture of the Austin holiday shopping season. The Bazaar features unique artwork, jewelry, clothing, and handmade goods from over 200 local and regional artists – with a portion of proceeds going to Make-A-Wish®. Parking & admission are always free of charge. Read our interview with the founders of Blue Genie to learn how this all began.
Thundercloud Subs Turkey Trot
The Long Center
November 23
Supporting Caritas of Austin, the 33rd annual Turkey Trot is an annual tradition on Thanksgiving Day. Dress in your finest turkey-themed workout gear, and join the community for this 5-Mile run or opt for the 1-mile walk/run. It's a fun time for all ages! Registration is open now.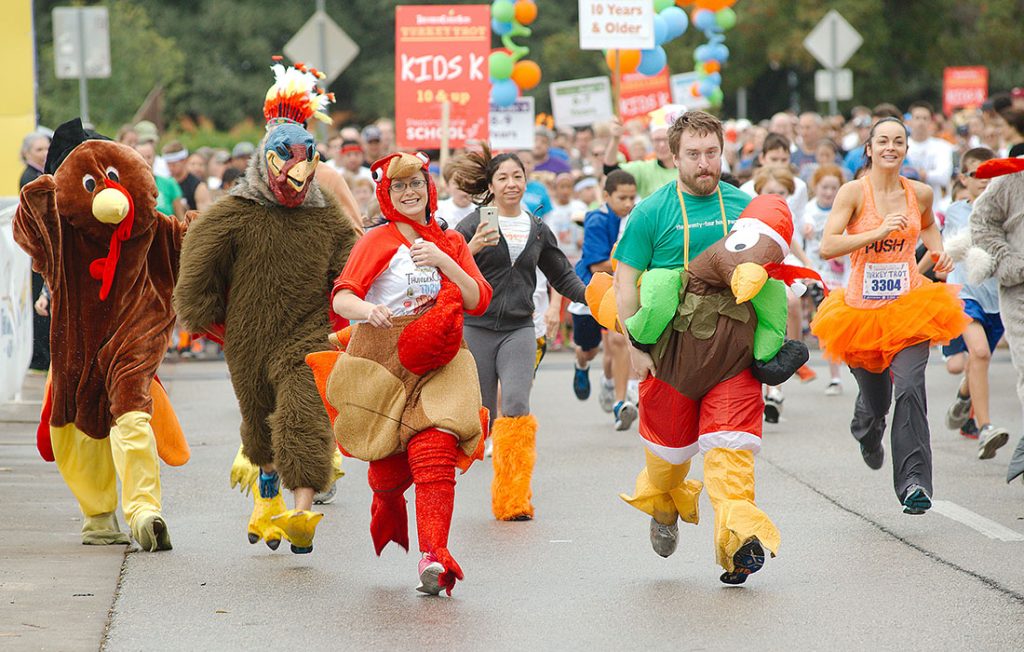 More on our Calendar of Events
Of course, there are far more than ten amazing events to enjoy this month, and you can browse our online events calendar for even more ideas on things to see and do this November in Austin.