Our Most Delicious Moments from Austin Food + Wine Festival 2022
Thanks to world-renowned culinary stars and beloved Austin chefs, the annual fest yet again brought memorable dishes to the masses
Last weekend, a sea of white tents and hungry patrons descended upon Auditorium Shores for the annual Austin Food + Wine Festival. A dazzling, sometimes overwhelming scene, it was my first time taking part in the two-day fest (sadly, Friday's Bavarian-themed kick-off had to be canceled due to weather), which was jam-packed with memorable dishes and drinks from celebrity culinary giants and well-loved local restaurants.
The gathering lets you experience a variety of dishes that drive conversation as you interact with a top-notch group of chefs that are actively pushing the envelope in the culinary world. Aside from the general showcase, cooking demos featured a respectable lineup of talent, including Tiffany Derry, Fermín Nuñez, Jo Chan, Kevin Fink and more, while the Meet the Maker tent welcomed high-profile spirit brands that shared insights and sips of their products.
One of these was Dos Hombres Mezcal, helmed by Breaking Bad co-stars and business partners Bryan Cranston and Aaron Paul. Guests were lined up for more than an hour in advance to grab a seat for the charismatic duo's presentation. After taking the stage to share the brand's story, they headed over to the Dos Hombres pop-up trailer to pour cocktails for eager fans. It was a festival (and life) highlight for sure, which reminded me that by sheer proximity, the fest brings opportunities for serendipitous moments at every turn.
The Fire Pit station was another fan favorite. The showcase of chefs churned out flavorful plate after plate, while giving curious visitors a first-hand look at their techniques. While lines were consistently and understandably long at each tent, you could stand across from the pit stations and, every now and then, grill masters would directly hand you a fresh bite of smokey perfection.
On Saturday, I got to check out the more exclusive Rock Your Taco competition. If there's one thing I've learned from eating roughly 14 tacos back-to-back, it's that tortillas are a defining factor in the taco hierarchy. While the flavor profiles of each competitor were generally delicious, the textures and sizes of the mighty tortilla took certain entries to the next level.
One of the best moments was when, standing among a lineup of talented and fiercely competitive chefs, Austin's own Amanda Turner, of Olamaie, was announced as the winner of the People's Choice award. With roaring cheers and a jubilant bear hug from her team, she was presented with the prize of an electric guitar and bragging rights for her unforgettable "Southern Phoenix" taco — one of the most craveable plates of the weekend (more on that later).
Each day closed out with a legitimate dance party led by Austin's own DJ Mel and emceed by Chef Tim Love. At this point of the day, camaraderie (and libations) had thoroughly worked its way through the crowd to create a fun shared experience between food lovers.
As for what I ate, the selection made me proud all over again to live in a city represented by such extraordinary culinary talent — and excited to be introduced to nationally recognized restaurateurs I had long heard of but never tried. However, before I get into all of the juicy details, it should be mentioned that I wasn't able to make it to every single tent. It was a pretty monumental task attempting to visit each chef and eat every morsel, and a particularly large crowd on Sunday saw a handful of buzzy stops running out of food early. That being said, I didn't go hungry. Take a look at some of my favorite bites from the fest below:
Sushi by Scratch Restaurants
What: Unagi with melted bone marrow, matcha tea salt, finished with house soy, ponzu and lemon
I'll be thinking about this dish for a while. I jumped at the chance to partake in a VIP experience from Sushi by Scratch. The lauded team offered a four-course preview of the stunning omakase menu they present at their 10-seat restaurant inside Hyatt Regency Lost Pines Resort. After carefully assembling the rice and eel, bone marrow was melted and dripped over the top, adding a mouthwatering depth of savoriness. A time-sensitive piece, we were instructed to eat immediately, and it melted away in our mouths. Heaven.
Wu Chow by Ji Peng Chen
What: Local prawns with honey and a Texas pecan
This bite was the ideal size and delicious in the most unexpected ways. A clear focus on seasonal and locally-sourced ingredients, the surprise at Wu Chow came from the pecan, which added a nutty balance in both taste and texture. I could have easily downed five more.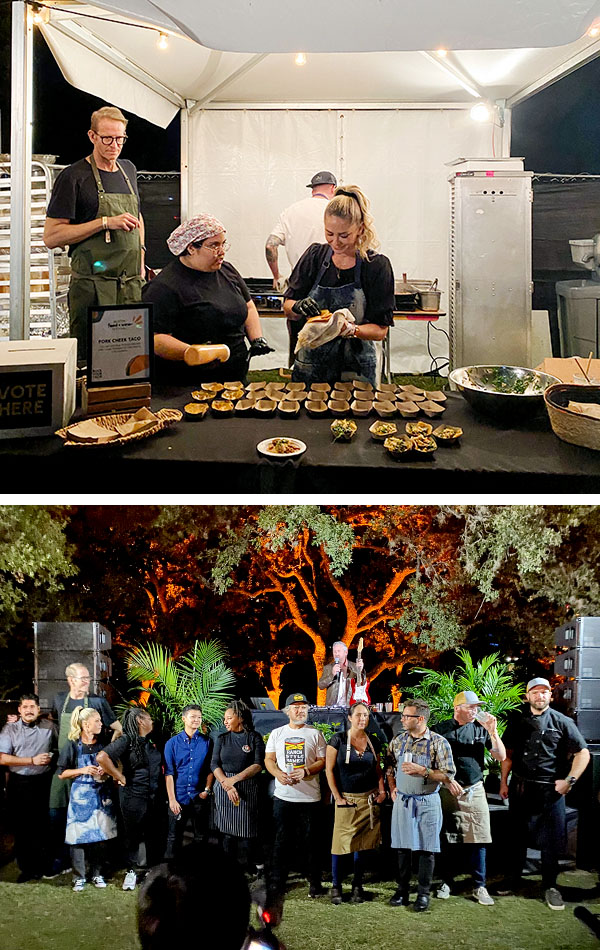 Rock Your Taco Competition: Top 3
What: Amanda Turner of Olamaie
It's a winner for a reason. The "Southern Phoenix" taco featured panko breaded fried chicken, spicy chili oil, a biscuit tortilla and honey butter — and it came piping hot. The chicken was crispy, yet juicy, and the perfect heat level left me craving another bite. The pillowy tortilla was reminiscent of Olamaie's iconic southern biscuits and created a memorable experience. It was an example of seriously good cooking and is *not pictured* because it was devoured so swiftly.
What: Ford Fry of Superica
This playful offering was inspired by the beloved Jack in the Box taco — paper bag included. But this wasn't your average late night snack, upgraded with delectable lobster while still retaining that classic ratio of ooey gooey goodness. I loved the combination of the high-end protein with the casual fast food vibes, and it came very close to taking my favorite taco token.
What: Brooke Williamson of Playa Provisions
Not going to lie, my Food Network heart was excited just to be in the presence of Brooke Williamson, let alone tasting food she hand prepared. The perfectly balanced pork cheek taco was topped with crunchy chicharon and had the best tortillas of the night. The mastery of each ingredient made it an extremely tough competitor and a noteworthy mention of top tier cooking.
Hillside Farmacy by Sonya Coté at the Fire Pit
What: Chargrilled oysters with butternut squash and compound butter // Pork tenderloin with molasses gastrique and pear blueberry spicy sauce
Speaking of local ingredients, I was happy to see Sonya Coté on the bill this year. I was first told about the "must-try" oyster before I knew it existed, and the rumors were true. The succulent tenderloin acted as a hearty counterpart, although I would have loved a dash more of the sauce.
Little Ola's Biscuits X Earlybird CBD Collab
What: Mini biscuits with Earlybird infused apple-butter jam and butter
A microdose of THC is one way to ensure guests are ready to take on a full day of eating. Each biscuit contained a tincture with ~2.5mg of THC derived from hemp by Austin-based brand Earlybird, and it was a delicious look at the industry's potential of collaborative culinary infusions to come. I already knew Little Ola's biscuits would be on point, but the bright apple-butter jam was a knock out.
Lonesome Dove by Brian Olenjack
What: Grilled lamb with yuzu aioli and arugula
From the moment I saw people munching on these miniature chops, I knew I had to track them down. Ideal for any meat-lover, the tender lamb carried a savory flavor that represented Lonesome Dove's game-influenced dishes.
Jason Dady and Friends at the Fire Pit
What: Grilled salmon planks with Shephard's bagel panzanella // Marinated flank steak with fish vinaigrette and fresh Thai curry paste // Wagyu asada street taco with pickled white onion and salsa macha // Butter chicken skewers with tzatziki and mint chutney
What didn't Jason Dady's team cook up at the fire pits? While I enjoyed the salmon, I couldn't get enough of the marinated flank steak. I mean, you know it's going to be good when it comes with a heat warning. Fellow fest-goers around me were left with runny noses, but all shared the same sentiment — that was a damn good bite of beef. The butter chicken skewers also proved to be a favorite. Overall, San Antonio-based Dady gave patrons an appetizing journey of meat and a clear understanding of his skill.
El Alma by Alma Alcocer
What: Lamb barbacoa street tacos with salsa verde and habanero pickled carrots
El Alma consistently makes tasty plates. The packed tacos gave texture and acidity with a comfortable level of heat thanks to the carrots, which married beautifully with the flavorful lamb. The restaurant also served Mexican street corn with chili powder, queso fresco and valentina aioli that sold out quickly.
Bento Picnic by Leanne Valenti
What: King salmon daikon rolls with house furikake
Featuring Big Glory Bay salmon from New Zealand and locally-grown cucumber from Vermillion Farms, these rolls from Bento Picnic were crunchy and a refreshing reprieve from some of the heavier meat and pasta-forward dishes of the fest. They also brought a big, impressive burst of flavor.
Wax Myrtle's by Nick Erven
What: Harissa gougère with whipped feta, Benton's ham, hot honey and za'atar
Wax Myrtle's is a newcomer to Austin's dining scene, and this fluffy, decadent dish was my first experience with both gougères and the restaurant — and it didn't disappoint. Each component stood on its own, but together, created an intriguing blend of flavors and spice.
Honorable Mentions:
I may not have tried them, but these plates received overwhelming accolades from fellow guests and friends.
1. Ooni x Sammataro pizzas
2. Lin Asian Bar dumplings
3. Finex Cast Iron Cookware Co. burgers
4. Discover Puerto Rico guava barbecue pork & Conito Mojito
5. Aba pumpkin hummus