Güero's Brings the Fiesta to South Congress
The family-owned and operated taco bar boasts authentic Mexican food, margaritas and live music
Holly Cowart
March 01, 2022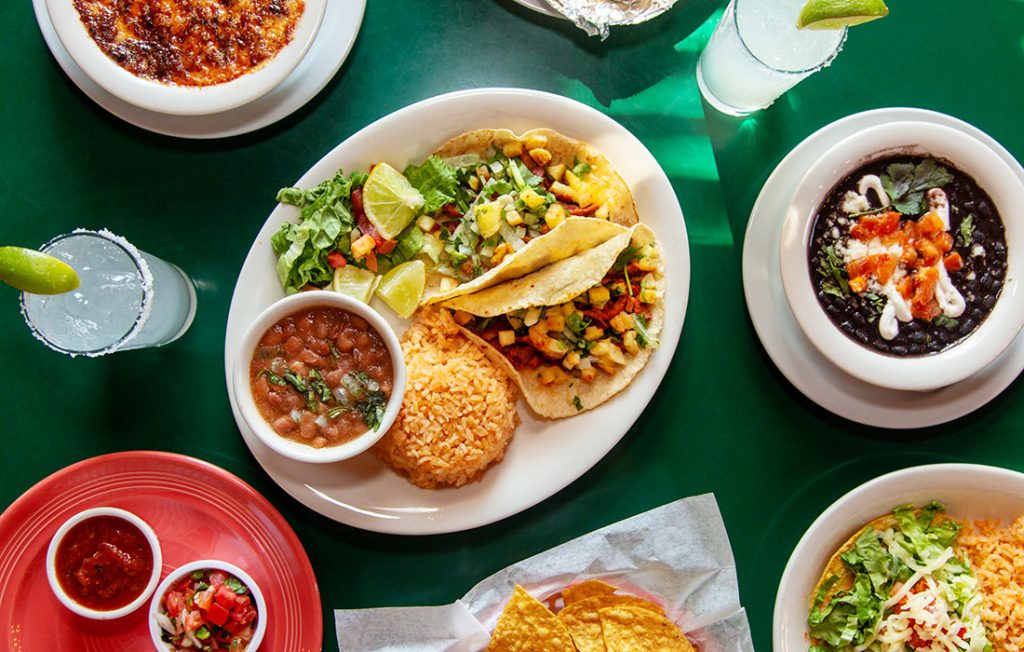 Some places always put a smile on my face, and Güero's is one of them. Its whole vibe is festive: a lively cantina, strong margaritas, plentiful Mexican food, music on the patio and prime people-watching on the sidewalks of bustling South Congress. It's the perfect recipe for happiness.
Güero's has been around for over 35 years and continues to be a magnet for locals and tourists alike. It's quintessential Austin: a joyful mezcolanza of sights, sounds, flavors and people. You'll find locals, tourists, families, students, hippies, cowboys, conventioneers, artists and, of course, bachelorette parties, all co-mingling and enjoying one of the most convivial restaurants in town.
Family-owned and operated, Güero's originated in 1986 as a modest taqueria on East Oltorf. But when the old Central Feed and Seed store on South Congress became available in the mid-90s, the Lippincott family snatched it up with dreams of relocating to a larger space. They transformed the vintage warehouse into Güero's current day iteration: a sprawling, funky compound offering plentiful Mexican food, drinks and live music. Inside, the bar area looks like a classic border town cantina, and the rustic dining room features vaulted ceilings, exposed brick walls and rough-hewn plank floors leftover from its feed store predecessor. For al fresco dining, there's a covered patio overlooking teeming South Congress.
Güero's adjacent Oak Garden is a destination itself, an enchanting beer garden featuring free live music beneath a canopy of ancient oaks. There's a full bar serving drinks and appetizers, plus plenty of outdoor seating, shaded by umbrellas and illuminated by string lights. There's even a small dance floor if the music moves you. On Wednesday nights, Sun Radio broadcasts a live show that showcases up-and-coming Texas musicians.
All this fun can work up a hunger, and Güero's extensive menu is a greatest hits of interior Mexican and Tex-Mex cuisine. But first, start with a margarita. At Güero's, they're simple, classic and sublime. My favorite is The Don: fresh squeezed lime juice, a splash of Cointreau orange liquor and a jigger of Don Julio Silver. Served on the rocks, it's tart yet smooth and hopelessly addictive. I almost always order another round.
Next, dive into a complimentary basket of chips and salsa, an astonishingly tasty freebie that I'd gladly pay for. Crispy tortillas chips are served with a trio of delicious homemade salsas: a rich, earthy roja, a chunky pico de gallo and a spectacular verdant tomatillo that that is spicy and bright and unlike any salsa in town. Continue grazing with an order of the queso flameado, a sizzling platter of bubbly broiled jack cheese scooped into a warm tortilla. It comes plain or with optional add-ins like bacon, ham, steak, grilled chicken, veggies or, my favorite, chorizo sausage.
I'm an old school nacho fan, and Güero's are as traditional they come: whole corn tostadas layered with beans and cheese, then broiled until hot and melty. I prefer mine simply garnished with jalapeños, but you can also add guacamole, steak or grilled chicken.
One of Güero's signature dishes is black bean soup, a hearty bowl of flavorful black beans simmered until tender and sprinkled with grilled tomatoes, cilantro, sour cream and queso fresco. Tacos al pastor is another standout dish. Marinated pork is sliced thin and tucked into a warm tortilla with chopped onions, cilantro, diced fresh pineapple and a squeeze of lime. Spicy yet sweet, savory yet bright, it's the ultimate ying-yang of Mexican food.
For some unexplained reason, chalupas have gone out of fashion and are rarely found on Mexican menus nowadays. But fortunately, Güero's still offers a classic chalupa platter, featuring two crisp tostadas topped with beans and cheese, then piled high with fresh lettuce and tomatoes. And the hits keep coming, with the kitchen dishing up beloved mainstays like tamales, fajitas, tacos and enchiladas where you can mix-and-match your favorite fillings and sauces.
By welcoming everyone with open arms and abundant hospitality, Güero's always feels like a fiesta. So whether I'm sipping a margarita at the bar, devouring a plate of enchiladas, or tapping my toes to music in the Oak Garden, you'll find me there with a smile on my face. Viva Güero's!
Güero's
1412 S Congress Ave.
Austin, TX 78704
(512) 447-7688