8 Up-and-Coming Musicians Breaking Barriers in Austin
We catch up with the genre-bending artists and bands who represent the best of the Live Music Capital
Weston Carls
March 03, 2023
Now Playing:
Primo the Alien
"I don't think I ever 'got interested' in music. It's just who I am," says singer Primo the Alien, who prefers not to use her real name. "Music is like breathing. I cannot remember or imagine a time when it wasn't the great love of my life." Perhaps the East Texas native was always destined for a galaxy far, far away.
While Primo admits she's a big fan of divas, which isn't surprising given how much of a wallop her vocals pack, when it comes to her music, lush synths and electropop beats are laced with 80s-inspired nostalgia, evoking visions of sensual interplanetary wastelands covered in glitter. She cites musical influences of electronic-based pop artists Charli XCX, Dua Lipa and Kim Petras, but when Primo is onstage in all her 5'11" glory, she writhes around with colossal intensity and bravado, like a mixture of Meatloaf, David Bowie and Lady Gaga.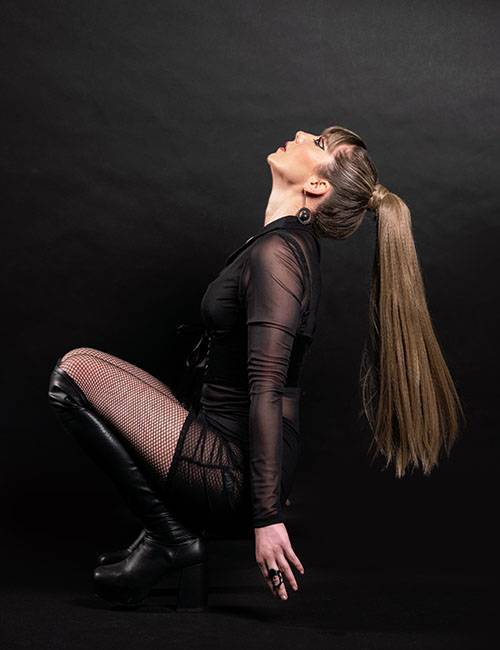 Her most recent album, double EP "Heart on the Run / Rock Professor" plays perfectly on that duality with one side ultra-sleek, sparkly electropop, and the other side over-the-top 80s rock. This spring, catch Primo the Alien at South by Southwest, performing around town solo or with super-girl group KVN, and in the near future look for a new EP she claims will be a huge departure from her usual sound. "I'm constantly pushing myself to explore different genres and sonic landscapes, so 2023 will be chock full of unexpected music from me."
Tony Kamel
"Things move slow on the Gulf of Mexico," Tony Kamel sings on his recent solo LP. Best known for the bluegrass, Grammy-nominated string band Wood & Wire, Kamel says he went solo mainly so he wouldn't have to get a "real job." But, really, the Americana singer-songwriter is happy to be exploring a new sound as a solo artist, what some call "Gulf Coast country."
MORE: Modern English Guitarist Shows Epic Music Photography at Modern Rocks Gallery
His laid-back record "Back Down Home" was recorded at The Bunker, Bruce Robison's all-analog studio in Lockhart, and conveys a down-home aural travelogue from Louisiana to Galveston, weaving country, bluegrass, folk and Cajun jazz throughout. "Many of my fondest memories growing up are from spending time with family and friends in Galveston, and I still adore that little weird gem of an island. There are some good ol' funky folks down there," Kamel says. He and Robison, who Kamel calls a good friend and mentor, are currently hard at work on a follow-up album, which he says won't be inspired by the Gulf, and Kamel hopes to tour more once it's finished.
It's performing as a solo act he especially loves, as weaving in personal storytelling during a concert is one of his favorite aspects. "I'm influenced by John Hartford, Levon Helm and John Prine because I just love the way those guys had their sense of humor woven into the art." Next month, catch Kamel at the Houston Folk, Blues, & Gospel Festival.
Abhi the Nomad
Born in Madras, India, Abhi Sridharan Vaidehi (aka Abhi the Nomad) has lived in Beijing, China; Hong Kong; New Delhi, India; Suva, Fiji; Los Angeles; Lille, France and most recently Austin, where he and his wife settled five years ago. Needless to say, his stage name is most apropos. In fact, the hip-hop singer, rapper and producer says that he actually got his start performing right here in the Live Music Capital of the World in 2017.
"I played at Dozen Street to a small crowd of people, probably around 30 — of which maybe five people were my fans," he says. "It grew very quickly from there." Known for his indie alternative musicality, Abhi's influences of Beck, Arctic Monkeys, Queens of the Stone Age, Phoenix, The Strokes and Spoon shine through his work, but his childhood love of Kayne is what propelled him into the world of hip-hop.
His upcoming second EP with rapper Kato On The Track, "Abhi vs Kato II," scheduled to release this month and is a sequel to 2020's "Abhi vs Kato," will showcase more of his rapping talents with "elite rapping and god-tier beats at the highest level of lyricism can produce." Also on the docket is a follow-up to 2021's genre-bending "Abhi vs the Universe," which he claims was "the start of a musical journey." He says, "It became a vessel for me to express what it felt like to experience a world that you want to change but seems impossible to alter without changing yourself." When he's not recording or performing with his band (Harrison Sands and Travis Brown), you can find Abhi playing PC shooter game "Apex Legends," reading a book a month (his 2023 New Year resolution), feeding his cats, Archibald and Tom, or watching Guy Ritchie movies.
Ley Line
According to Wikipedia, ley lines are "straight alignments drawn between various historic structures and prominent landmarks." For Lydia Froncek, the percussionist of female multilingual folk quartet Ley Line, the band's name "speaks to a larger truth of how interconnected we are with each other and the planet. Our music is a ley line that connects us to the many people and places that have influenced our sound."
This is one of the many reasons the ladies of Ley Line — Lydia, her sister Madeleine Froncek, Emilie Basez and Kate Robberson —sing in different languages: Portuguese, Spanish, French and English. "It's a special way to remember that even if the words aren't understood by the whole audience, the feeling still comes through the music," explains Basez.
During a chance encounter at the Telluride Music Festival in 2013, the sisters met the two friends who knew each other from their time in Brazil. The foursome instantly hit it off and formed a band when they all eventually made their way to Austin. Ley Line may have gotten its start performing at farmers' markets and yoga studios, but in due course the band played at ACL, and in 2021 they produced their own visual album inspired by a three-month journey through Brazil to accompany their sophomore album "We Saw Blue," which screened at Paramount Theatre.
"Folk music comes from a long tradition of oral history and storytelling,"says Lydia. "It was important to us to honor the people and places that inspire our music, and we wanted our audience to be able to experience Brazil in a very visceral way. We felt that film would give our audience a deeper understanding of how the place influences the music." You can see Ley Line at the Old Settlers Music Festival and Kerrville Folk Festival this spring.
Urban Heat
"It's dance music for depressing times," Urban Heat lead singer Jonathan Horstmann says to describe their music. It's true, while clad mostly in black leather, mesh and studs, the live shows of the band — also comprising of Kevin Naquin and Paxel Foley — can seem like serious stuff. But with infectious synths, Horstmann's throaty baritone growl and "Joy Division meets Depeche Mode" vibes, your body will be transported back to Elysium's famous 80s Sunday-night dance parties.
MORE: A Guide to the Best Music Venues in Austin
Horstmann says that although he's drawn to retro tunes, the main influences on Urban Heat were "the machines used to make music," like the LinnDrum LM2, a legendary drum machine used by Giorgio Moroder and John Carpenter; the Minimoog, the single-note synthesizer on records from Pink Floyd and Dr. Dre; and the powerful Prophet 5, a five-voice polyphonic synthesizer that changed music when it was released in 1978. But, mostly, Urban Heat's sound was created out of necessity when Horstmann's daughter was born, and he turned to synths to make music in headphones while she slept.
"I absolutely fell in love with sound design and the ability to use a sequencer to perform multiple synths at one time," he says. "I was able to create complex orchestrations as a single person, and it completely changed my approach to composition and performing." You've most likely heard their single "Have You Ever?" dominating the local airwaves last year, or seen the band play during ACL, SXSW or on their national tour. In addition to this month's SXSW show, later this year the band will tour internationally with Vision Video and play Cruel World Fest in California with Siouxsie and Iggy Pop.
Pleasure Venom
Although powerhouse lead singer Audrey Campbell technically formed raw, experimental punk band Pleasure Venom — named after both super villain She-Venom and Gandhi's concept of "pleasure without conscience" — in 2014, the band in its current iteration, with Chase Dungan on guitar, Jordan Emmert on bass and Thomas Valles on drums, only released its first full-length LP "Rebirth/Return" this past December.
Dungan explains that the new album "quite literally represents a new chapter for the band and a return to live performance," which every band member says is an act of catharsis for both those on stage and the audience watching. While this may only be Pleasure Venom's debut album, which is full of what Valles calls "groove-heavy rock music with a punk energy and ethos," the band has had the luxury of performing and touring with other rock heavy hitters, like Garbage, Bikini Kill, Against Me!, L7, The Spits, Osees, Ringo Deathstarr, A Giant Dog, and the list goes on and on.
However, performing in their hometown is always the biggest highlight, with a spot at last year's Austin City Limits Music Festival being especially exciting for longtime local Dungan. The band is looking forward to its official showcase at this year's SXSW and an upcoming U.S. and Canada tour starting in May.
Chief Cleopatra
Admittedly influenced by all types of music — from Led Zeppelin to Outkast — Jalesa Jessie (aka Chief Cleopatra) ideally wants to follow in Tina Turner's footsteps and become the next black female rock star. Although, she admits she prefers not to label her music too much. "I try not to put myself in too much of a box because I'm influenced by all kinds of bands and artists, and I just want to express how I'm feeling at the moment," she says.
Growing up in Corsicana surrounded by gospel music, Jessie rebelled from playing the piano by picking up drumsticks and learning how to play music by ear. "I taught myself how to drum listening to John Bonham," she says. Jessie eventually made her way to Austin in 2012 and in 2019 formed her band with Leonard Martinez, Tre Pham, Emilio Mendez, Jackson Brooks and Barrett O'Donnell.
Describing their sound as "fun and light with a giant helping of rock and soul and sultry vocals," Chief Cleopatra released "Luna" last year, played SXSW two years in a row (with a third showcase this month), opened for Girl Talk and headlined Austin festival Hot Summer Nights. New LP "Weekend Warrior," inspired by new beginnings, is set to be released this fall. "My music is for people with no limitations. People who want to mix all these genres together to make this universal sound, and that's really what I'm trying to accomplish.
Daydream Twins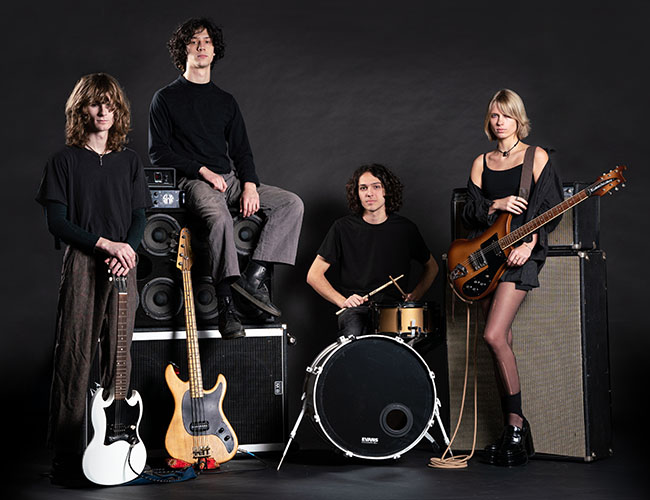 "'Shoegaze' is about filling up space with noise and slight chaos mixed with melancholy," explains Daydream Twins lead singer Jordan Terry to describe the band's genre. Along with partner Aidan Babinski, as well as Chris Welvaert and Jimmy Mercado, Terry's ethereal vocals pair with droning guitars to create vibey psychedelic tunes that are "very dreamy, cinematic, chaotic at times, yet all flowing gently through different moods."
Hailing from Southern California, Terry met Austinite Babinski through mutual friends, and the two eventually ended up writing music together as a couple. With long, blonde mops, similar lanky builds, and very few creative differences, the so- called "twins" only had their first performance as a band in March 2022 and self-produced their first album in September using a cheap preamp and an outdated version of GarageBand. "It is a perfect fourteen-track compilation of ourselves, pieced together to carry the listener through an emotional experience, as well as the essence of our relationship," Terry says.
The singer also notes that being in a relationship with your bandmate is easy when you're so much alike, and the duo is able to constantly write and record music together. In addition to their Wednesday night residency at Hole in the Wall this month, they're currently at work on a new record that incorporates more ambient music, which they love to listen to and include in their live shows.
MORE: Get on the List with Our Free & Unofficial Guide to SXSW 2023