Can't Miss Exhibit at WCC: Interactive Art + Limited-Edition Prints from Around the Globe
Enjoy playful interactive works from artist Mila Sketch along with a dynamic collection of limited-edition prints at Austin gallery
By

Joleen Jernigan
photos courtesy of WCC
July 05, 2023
Art lovers, art collectors, and fans of augmented reality (AR), hurry over to West Chelsea Contemporary (WCC) on West 6th to catch the fantastic exhibition, EDITIONS, showcasing work by more than 100 artists from twenty countries around the globe. This exhibition is free and open to the public now through July 16. With pieces spanning six decades of creativity, EDITIONS at the WCC is not to be missed!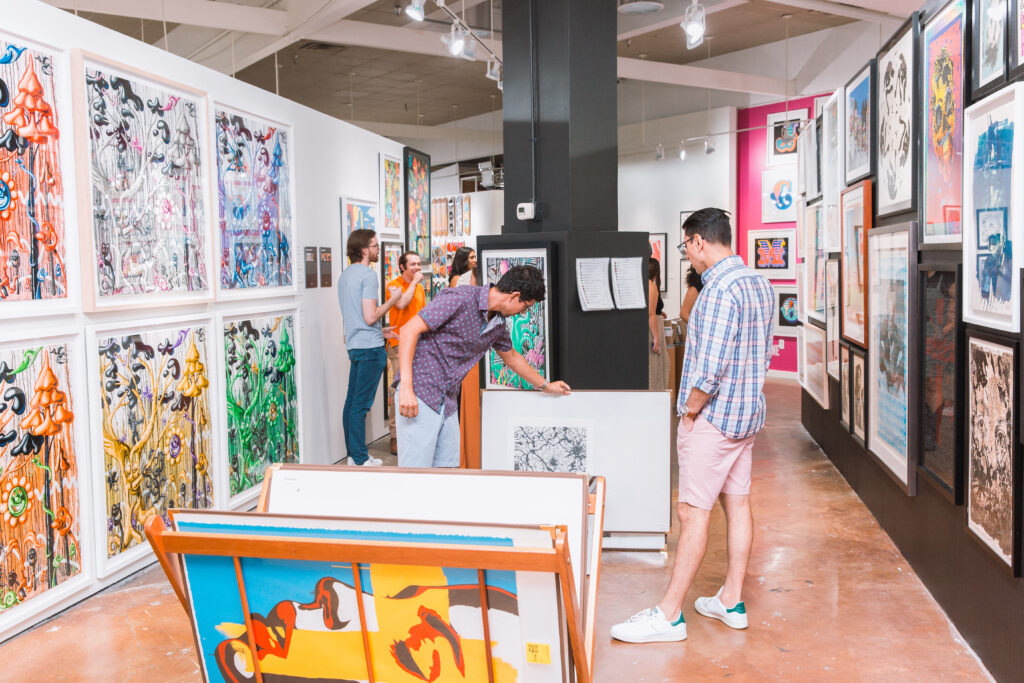 Mila Sketch's AR Artwork
The mind-blowing AR pieces by local artist, Mila Sketch, alone merit a visit. Several of her prints are interactive pieces that come to life when activated through her Mila Sketch app (available for iOS, Android, and Google Play). This limited-edition collection includes a whimsical AR jellyfish created specifically for the WCC exhibition. When viewed through the app, the jellyfish rises up out of the vinyl print and begins to spin and move for the audience, with each of its tentacles reaching out independently in a mesmerizing, flowy dance reminiscent of being underwater.
Gallery Director Allee Beatty held an artist chat with Sketch to discuss her artwork, life, and inspiration for the AR art. Sketch started with AR after winning a Unesco Media Arts Exhibition Grant in 2019 through SXSW. Sketch calls it "An amazing opportunity," expressing gratitude for the grant and the opportunity to stretch her creative muscles into new territory.
Mila elaborated on her process for creating augmented reality artwork from inspiration to fruition. She credits her multinational Mila Sketch team based in Austin, Montenegro, and the Czech Republic for bringing it all together in collaboration to animate the artist's vision with AR technology.
Mila has recently returned from Florida, where she traveled with her wife, Julia Dixon, and their son, to paint a large mural at Disney Springs at the Walt Disney World Resort. Dixon is not only Sketch's wife but also an important member of her art team, whom Sketch also credits with unwavering support in her career as an artist.
An Austin Favorite
While Sketch was already a well-known artist and muralist, the SXSW Unesco grant set Sketch off on a new path. Her initial series on fire, water, earth, and air was released at the Austin Central Public Library. Mila was also voted the Best Visual Artist in Austin in 2021 by Austin Chronicle & Austin Monthly readers. Visitors to WCC can also see some of her AR prints that are smaller versions of full walls that she has up at the Austin-Bergstrom International Artwork. Be sure to download the Mila Sketch app before your visit to the gallery or the airport, and let the art take you on a magical ride!
EDITIONS Prints and International Artists
EDITIONS looks at the role prints play for both artists and collectors in the world of modern and contemporary art. WCC visitors will see pieces made with different printmaking styles, from traditional etchings and photography to printed silk screens and lenticulars. Offering limited-edition prints is one way artists can make their art attainable to more art lovers and collectors, because most people aren't able to commission an entire wall or an original piece.
Other featured artists in the EDITIONS exhibition include prints by John Matos, "The Doyenne of Hyperrealism," Carole Feuerman, husband-wife duo Dabs and Myla, Kenny Scharf, Takashi Murakami, and so many more. EDITIONS will run through Sunday, July 16. And yes, the WCC has ample free parking for its guests!
Upcoming WCC Events
For a fun way to tour the WCC, visit their First Friday Gallery Tours featuring drinks, music and mingling. Take note that the WCC's next exhibition, Concrete to Canvas, opens on July 22.