Austin's Best Shops for Western Wear, Cowboy Boots and Other Texas Treasures
By

Avery Matschek
September 27, 2023
Local brands with strong roots are creating both stylish and functional western wear for all Texans. We've rounded up our top shopping picks for cowboy boots, classic hats and other western-inspired items.
Allens Boots
1522 South Congress Ave.
Allens Boots is a South Congress classic with a red cowboy boot sign you can recognize from a mile away. With a focus on tradition, Allens can outfit guests with kicks for hard work or fashion-forward style. The shop's Wall of Fame showcases the many prominent celebrities who have visited this boot haven for a true Texas experience — this is where to bring out-of-towners looking to leave with a souvenir pair of boots.
---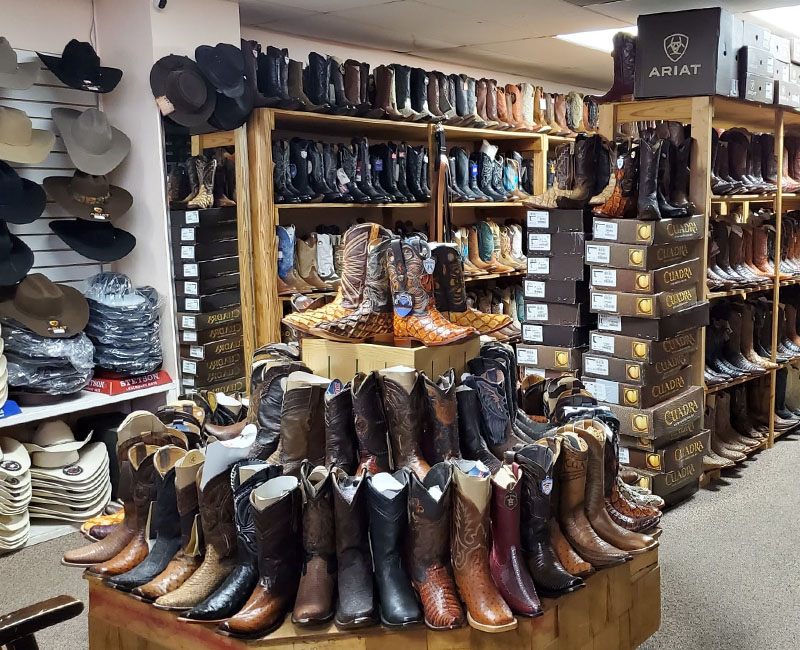 Tiny's Western Shop
8403 Research Blvd.
Tiny's first opened for business in 1958, meaning it's been outfitting Texans for more than 60 years. Stroll through the north Austin shop to find bolo ties, Hispanic-styled items, kids' apparel, boots, spurs and more. The woman-owned store's wide variety and friendly staff make it a worthwhile destination for cowboys and cowgirls alike.
---
Callahan's General Store
501 South Highway 183
A longtime local tradition, late founders Earl and Lucy Callahan opened Callahan's General Store back in 1978. The shop's classic clothing offerings include Wrangler jeans, Stetson hats and Justin boots. Plus patrons can grab a beaded hat band or Texas-sized belt buckle to add some bling to their wardrobe. Beyond the great western wear, there's also housewares, animal feed and welfare items. It's a one stop shop for all things Texas!
---
Trovador Customs
1700 South Congress Ave.
Trovador takes the humble hat and transforms it into a work of art. Ordering a hat from Trovador is a personalized experience, as the store's staff aims to capture each customer's story in their new headwear. Owner Ryan McGrath even encourages customers to bring sentimental items to be incorporated into their hats. Standout styles include The Jolene, a pink western hat with a white bolo and feathers, and The Texas Classic, a distressed silver belly hat.
---
Chisos Boot Company
3507 South 1st St.
With comfortable boots made of leathers from hand-selected cow hides, Chisos Boot Company is an incredible option for high-quality, long-lasting shoes. Plus, Chisos donates a percentage of their revenue to local conservation agencies, including the Texas Parks and Wildlife Foundation and Hill Country Conservancy. Named after the Chisos Mountains, the brand from native Austinite Will Roman will outfit your feet with the best of the best.
---
Triple Z Threadz
1606 South Congress Ave.
Triple Z Threadz focuses on "embroidered crap" — their words, not ours! A unique treasure trove located on South Congress, Triple Z carries both new and vintage pearl snap and Hawaiian shirts for ladies and gents. Embroidered images include sasquatches, laser cats and cherry lips, and we particularly love the embroidered faces of Mr. Rogers, Dolly Parton and RBG herself. The store also carries playful T-shirts and Austin-branded items that would make great gifts for anyone in your life.
---
La Herradura Western Wear
737 Montopolis Dr.
Men and women can discover everyday wardrobe staples, as well as more trend-forward pieces, at La Herradura Western Wear, a hidden gem located near the airport. Ariat, Durango and Stetson products are among the selection at La Herradura, a family-owned boutique.
---
Tecovas
1500 South Congress Ave.
When you think of cowboy boots, you probably think of Tecovas. What started as an online brand has evolved into a still-expanding company with brick-and-mortar shops in more than a dozen states. Their products are handmade in León, a place steeped in the history of bootmaking, and can add both function and fashion to anyone's closet. Of their many styles, we love The Daisy, a classic ankle zip boot for the girls, and The Cartwright, a beautiful calfskin cowboy boot for the guys.
---
Texas Standard
4401 Guadalupe St.
Texas Standard sets the standard for men's modern western clothing. Focused on outfitting the "Texas Gentleman," every piece is made with high-quality materials and built to last well beyond today's world of fast fashion. All of the brand's products are worth checking out, but we especially recommend the Texas Guayaberas for those hot summer days. Texas Standard donates 10% of all profits to Texas-focused charities so patrons can feel good about every purchase.
---
Heritage Boot Co.
1714 South Congress Ave.
Once named "The Best Handmade Cowboy Boots You Can Buy Right Now" by Forbes Magazine, these bespoke-styled boots are crafted by multi-generational boot makers. Heritage Boot Co. takes their boots so seriously that you cannot purchase them online — customers are invited to speak with staff over the phone or visit the shop so Boot Mavens can help them find their perfect fit. Heritage also sells hand-tooled purses, gorgeous belt buckles and leather belts to complete any western-themed look.
---
Gomez Western Wear
6700 South Congress Ave.
With three locations across Austin, and additional spots in the Houston and Dallas areas, Gomez Western Wear is a shopping mecca for every western-inspired item you can imagine. The expansive selection of men's, women's and children's clothing comes in at affordable prices, and comfort is always a priority, making each item of clothing and footwear very wearable and practical.
---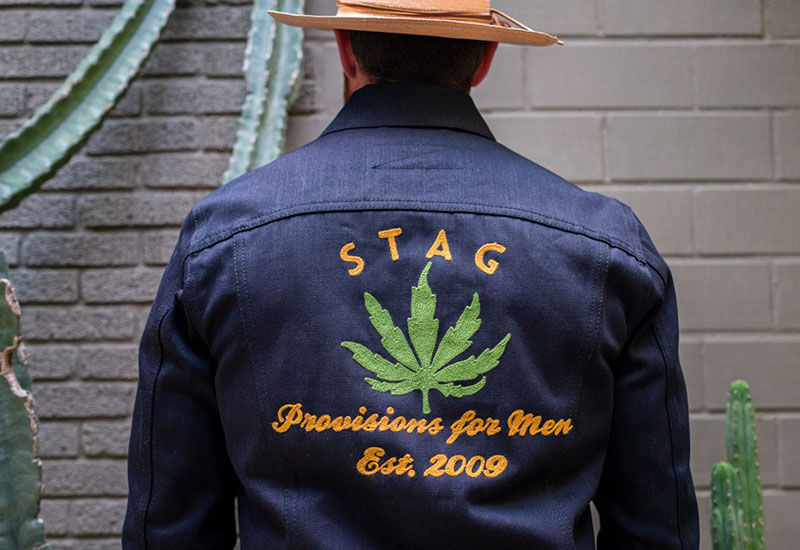 STAG Provisions for Men
1423 South Congress Ave.
Men on the hunt for stylish duds should make a visit to STAG, a store specializing in a contemporary take on classic Western-inspired clothes. High-end meets vintage in STAG, the perfect destination to discover your next style-forward wardrobe staples.
---
Zilker Belts
Online Only
No rodeo outfit is complete without a belt, and Zilker Belts makes some of the best. Thanks to the company's partnership with artisans in Argentina, the vibrant belts celebrate classic gaucho belts, while incorporating Austin style. Sold at Trovador Customs, Sportsman's Finest and other local retailers, Zilker Belts also offers custom and corporate offerings. Plus, they have dog collars to bring some western flair to your furry friends!
---
Fort Lonesome
Online Only
Fort Lonesome brings all the disco vibes to a number of products — bandanas, bolo ties, posters and more — and everything is embroidered here in Austin. The chainstitch patches make eclectic additions to your closet, while fine art prints will brighten up any home.
---
Marian Uptown & Outwest
Online Only
Looking for jewelry or accessories to add the perfect touch to your rodeo 'fit? Marian Uptown & Outwest is the Austin-based online shop for you. The Darling Scarf features a cowgirl on a horse in gorgeous colors, and the ¡Viva! Scarf is a tribute to escaramuza, a female equestrian sport from Mexican rodeos. Be on the lookout for more apparel and products to come from Marian Uptown & Outwest soon.
---