SXSW 2023: 7 Concerts to Catch from Austin Musicians
Find the local hidden gems on the rise in the music world at epic late-night shows throughout the week
Though SXSW attracts incredible artists from all over the world, it's also a chance for some of our best local talent to shine on a global stage. Check out the hometown heroes representing our city this year: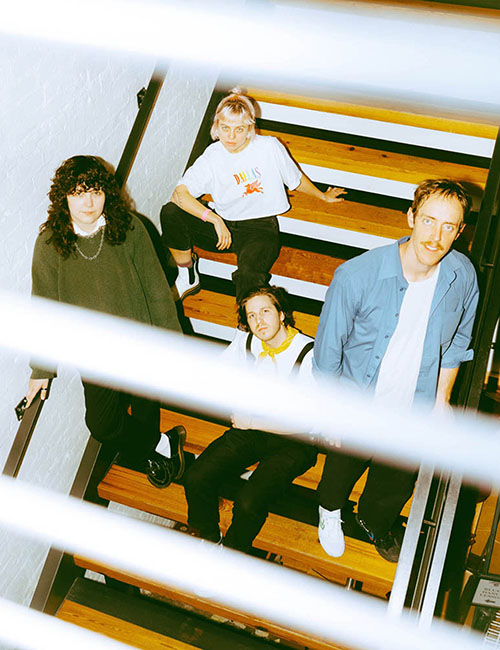 Redbud
The brilliant brainchild of Katie Claghorn, Redbud is an indie psych-pop outfit that has been taking Austin by storm. Their infectious guitar hooks and sprightly synth arrangements are the perfect accompaniment to walks in nature, long drives or knocking out those house chores you've been putting off. Not to mention, their keyboardist, Stacie Agnew, recently took home the award for Best Keyboardist at the Austin Music Awards. Stream the band's brand new EP Long Night, and be sure to catch their electrifying set at the fest.
Big Wy's Brass Band
Fresh off their victory for Best Horns at this year's Austin Music Awards, this lively jazz crew knows how to get the party started — and keep it going. Founded by Austin native Wyatt Corder, a.k.a. Big Wy, the nine-piece band has been bringing the funk to the 5-1-2 since 2014. With their perfectly in sync horns section taking the lead and their tried and true rhythm section holding it down, Big Wy's Brass Band creates an irreplaceable magic onstage. Treat yourself and your soul with their vivacious live show.
Why Bonnie
What began as the bedroom pop project of frontwoman Blair Howerton has now evolved into one of the best up and coming indie rock acts in Austin and beyond. Their 2022 debut album, 90 in November, received nods from Pitchfork, Paste Magazine and NPR's All Songs Considered. The record is filled with sturdy, strong guitar riffs and meticulous storytelling. Entering the new year with an equally as captivating follow up single, Apple Tree, as well as a national tour this spring, it's clear Why Bonnie is just getting started.
Pelvis Wrestley
Piloted by singer-songwriter Benjamin Violet, Pelvis Wrestley is redefining the traditional country sound with avant-pop flair. Their stunning debut album, Vortexas Vorever, is set to be re-released this year with the band's new label, Earth Libraries. The lead single, Susanna, is a beautiful, pulsing anthem with classic folk lyricism and artful production. Witness them in all their glory this SXSW.
Skateland
Skateland is the moniker of alt-pop artist and producer Dorian Williams II. Named KUTX's February 2023 Artist of the Month, the Las Vegas transplant has already made huge waves in the Austin music scene. His debut EP, New Wave Revival, is brimming with lush arrangements, vivid textures and thoughtful prose. Though he initially moved to town for grad school at UT, something tells us he doesn't need to finish that degree.
Pleasure Venom
This boisterous quartet has become a staple in the local post-punk community. With their heavily anticipated debut album Rebirth/Return, the group sounds more powerful and poised than ever. Before they embark on a North American tour with fellow Austin favorites, Ringo Deathstarr, Pleasure Venom will be putting on some incredible shows during SXSW. Experience the wizardry for yourself!
Como Las Movies
Como Las Movies' magnetic sound lives in the center of the venn diagram of cumbia and synth-pop. With the amazing writing and production from frontman Nelson Valente Aguilar, the band has played ACL, caught the attention of NPR and was selected as KUTX's Artist of the Month this past October. Enjoy their cinematic set and stream their latest single, Café.
MORE: Get on the List with Our Unofficial & Free Guide to SXSW 2023