14 Vegan and Plant-Based Eateries to Explore in Austin
By

Holly Cowart
September 28, 2023
From BBQ burgers to leafy greens, there is so much joy to be found in the nourishing cuisine of Austin's plant-based and vegan dining scene. This facet of our city's restaurant culture has been steadily evolving, and while we're definitely a fan of the vast environmental benefits, let's be frank — taste is the key factor here. Whether you're looking to lead a more sustainable lifestyle or simply love a scrumptious plate of food, our list features 14 distinct and handcrafted styles from Italy to Japan and a whole lot of Tex-Mex  — even your carnivorous friends will leave feeling satisfied!
Rebel Cheese
2200 Aldrich St., Suite 120
"The best cheese is made from plants" — now that's a bold statement. However, Mueller's Rebel Cheese makes a strong case for it. The vegan deli, cheese and wine shop offers a finely curated, yet robust menu of dishes including sandwiches, salads, soups and charcuterie boards. With rotating specials and two dozen varieties of housemade, artisanal vegan cheeses at your fingertips, there's always something new to discover. Once you're hooked, join the monthly cheese club!
---
Bouldin Creek Cafe
1900 South 1st St.
If you're searching for an Austin original, this is the place. Opened by Leslie Martin in 2000, step inside the cozy vegan cafe on South 1st Street to find scratch-made plates, fresh coffee and lots of character. You won't get bored with an array of options from all-day breakfast to delightful desserts topped with Luv Fats Ice Cream. Thanks to a continued focus on supporting local businesses, supplying fair wages and fostering community, you'll leave feeling good in more ways than one.
---
The Beer Plant
3110 Windsor Rd.
This fully vegan gastropub (the first in Austin) was actually inspired by the love of craft beer. Tucked away in Tarrytown, visitors can sample from a lineup of sudsy brews on tap — plus cocktails and wine — and an approachable menu that will even surprise your non-vegan friends. Stop by for dinner weeknights from 5 to 10 p.m., with brunch available on weekends. The kitchen is always experimenting with new flavors, but must-trys include the Cauliflower Wings and Nashville Hot & Crispy sandwich.
---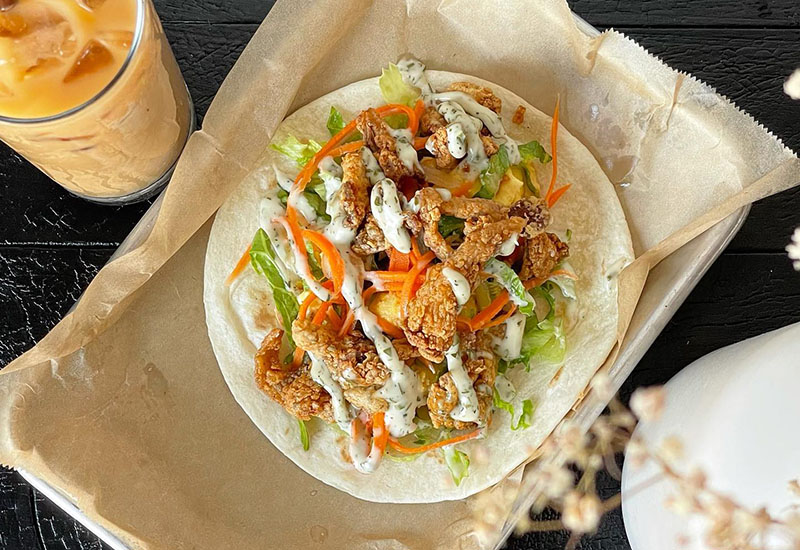 Tellus & Tellus Joe
3108 Windsor Rd.
Good news! The folks at The Beer Plant just opened a vegan Oaxacan restaurant right next door to their other locale. Organic coffee bar Tellus Joe by day, the concept becomes Tellus in the afternoons, introducing vegan versions of regional southern Mexican cuisine. Breakfast tacos and pastries are available until 2 p.m., with dinner offerings launching at 5 p.m. Look out for interesting accents like Carrot Mole and Beet Tortillas, but the agave spirits are a true highlight of the nighttime experience.
---
Big Nonna's
12601 Tech Ridge Blvd.
Pizza is back on the menu thanks to this fantastic stop in North Austin. Also mentioned in our guide to the Best Pizzas in Austin, these New York-style vegan pies are made from scratch and have no shortage of creativity. Beeteroni? Check. Pineapple jalapeño lovers? You're covered there too. The pizzeria also offers soft serve ice cream (and you guessed it, it's vegan) to satisfy your sweet tooth. PSA: South Austinites can still get their fix at the original Li'l Nonna's trailer on St. Elmo Road.
---
the vegan yacht
2000 Southern Oaks Dr.
You may have spotted this restaurant at a festival or two. What started as a family-owned food truck has evolved into a vibrant, octopus-clad brick-and-mortar known for its friendly atmosphere and dynamite burritos. It's worth trying them all, but don't miss the Freeto Burrito, packed with organic tempeh chili, corn chips, avocado and vegan cheese. You'll also find an assortment of Zucchini Kill baked goods here, but more on that later.
---
Nori
3208 Guadalupe St., Unit B
Austin's got a stylish new date spot. Nori serves delicious plant-based Japanese dishes, from Gyoza with Impossible Meat and Ginger Miso Ramen to a variety of nigiri and maki bursting with color and, most importantly, flavor. The distinct destination opened last August just north of the Drag. Indulge in a late night or pop in for happy hour, available every Tuesday through Thursday from 5 to 6:30 p.m. Either way, you're in for an adventure.
---
Casa de Luz
1701 Toomey Rd.
Casa de Luz makes for a charming and unique communal dining experience. Served cafeteria-style, the set daily breakfast, lunch and dinner menus are rooted in macrobiotic, whole plant nutrition, free from chemicals, animal products, gluten or refined sugars. Diners can usually expect a salad, soup and main dish in hearty portions. The grounds are expansive and gorgeous, with ample outdoor seating underneath lush greenery. Also, keep an eye out for regular events and yoga classes!
---
The Well
440 2nd St.
While not everything here is 100% plant-based or vegan, there are plenty of thoughtfully-prepared plates to be had at The Well. The chic interiors are light and airy, with a menu that places importance on sustainable, healthy and flavor-forward dining. The concept was thought up by Nova Hospitality's Jon Oh and health coach Liv Langdon. Everything is free from gluten, soy and refined sugar, and the majority of options are vegan or vegetarian — a refreshing twist.
---
The Vegan Nom
2324 East Cesar Chavez St.
East Austinite and chef Chris Rios spent years fine-tuning his recipes in search for the ultimate vegan taco before establishing this bold eatery. With a mission to save the planet, the menu features the usual Tex-Mex staples — but that's not all. The Vegan Nom park has become a compound for Rios' culinary creations, with sister restaurant Nom Burgers and a newly-opened tiny donuts and coffee trailer, Percolator, as next door neighbors. It's a one-stop destination for seriously tasty food.
---
Nissi VegMex
9012 Research Blvd. Unit C-6
Nearly a year after moving into its first brick-and-mortar location, Nissi has garnered a loyal following. Run by Sergio Tamez, who missed the traditional Mexican dishes of his youth after embarking on a vegan lifestyle, the goal was to get as close as possible to the real deal, minus the negative ecological impacts. The majority of menu items are gluten-free and organic, with six varieties of protein to choose from. We recommend the Cheek'n Flautas and Birria Tacos!
---
Mr. Natural
1901 East Cesar Chavez St.
Family-operated since 1988, this time-honored institution is a gluten-free bakery, juice and smoothie bar, holistic wellness store and Tex-Mex vegan diner all in one, serving up large portions from its homey dining room in East Austin (where you'll likely recognize the colorful street mural dedicated to noteworthy vegetarians.) Look out for tempting daily specials, but whatever you do, don't skimp on the vegan cakes, which make a perfect addition to special occasions.
---
Honest Mary's
9828 Great Hills Trail, Unit 300
Honest Mary's emphasizes quality ingredients and healthy choices — something you don't readily think of when it comes to eating on-the-go. With an outpost in the Arboretum and Rosedale, the fast-casual spot was started by Nelson Monteith after discovering the benefits of nutritious food firsthand. Out of six signature grain bowls, half are vegan and all are gluten-free, with the option to Build Your Own for added customization. Everyone in your group will find something to enjoy!
---
Zucchini Kill Bakery
701 East 53rd St., Unit C
Start the day off right or get back on track at this all-vegan bakery. Also in our guide to Austin's Best Baked Goods, the musician and women-owned sweets shop was inspired by the '90s feminist punk scene, creating rebellious treats that shun the norm — or at least shun divisive ingredients, including dairy, artificial food dye and soy. We're obsessed with the chocolate cake and vanilla cream-filled Rebel Swrrrl Swiss Rolls. There's also now a second location at the recently-opened Tweedy's Bar.
---