Austin's Top Dog-Friendly Eateries
We're still deep in the dog days of summer! If you're looking for a place to dine with your furry friend in tow, we've rounded up some of our favorite dog-friendly eateries that invite pups into the fold. 
Yard Bar 
6700 Burnet Road
Both a well-stocked bar and a welcoming dog park, Yard Bar invites pups and people to mix and mingle at their venue on Burnet Road. Open from 11 a.m. to 10 p.m. daily, you can bring your laptop to tackle some of your to-do list with your dog by your side or meet up with friends and pets for happy hour. Their "Hair of the Dog" menu features a Mega Mosa and Irish Coffee, but there's also beer, wine, cocktails and non-alcoholic options. Day passes and memberships are available for purchase.
Ski Shores Cafe
2905 Pearce Road
Perched on Lake Austin since 1954, Ski Shores Cafe is now managed by MML Hospitality, the restaurant group behind Swedish Hill, Clark's and more. The expansive outdoor seating area is open to furry friends, where they can join their humans at picnic tables surrounded by umbrellas and misters to help beat the heat. The all-day menu features frozen drinks, seafood and chicken baskets, burgers, sandwiches and ice cream — there's something fun for everyone.
Launderette
2115 Holly St.
For a more elevated culinary experience that still allows for four-legged friends to join in on the patio, head to the vibey Launderette on East Austin's Holly Street. House specialties include the Ricotta Cavatelli and Plancha Burger, but whatever you order for your main course, don't skip dessert — the Birthday Cake Ice Cream Sandwich is to die for.
Loro 
2115 South Lamar Blvd.
Aaron Franklin and Tyson Cole's Asian smokehouse and bar is known for its fresh rice bowls, succulent smoked meats, boozy slushies and batch cocktails. The grand patio is open to dogs, and thanks to their massive oak trees, there's plenty of shade in the summer. Staff members can provide water bowls and treats to make your meal a five-star experience for your cute companion as well.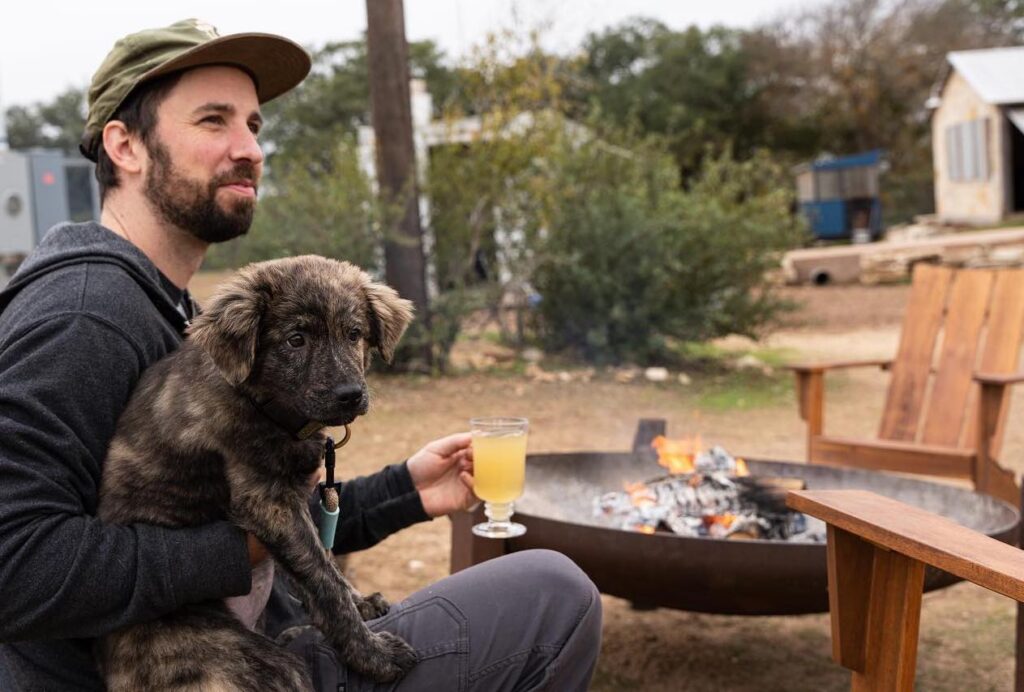 Jester King Brewery
13187 Fitzhugh Road
If you're looking for a place for your dog to roam, Jester King Brewery boasts 165 acres of Hill Country land that is ready to be explored. On top of the expansive acreage, Jester King brews delicious beers that are made from Texas-grown grains whenever possible. They also create and pour wine varietals and fruit-forward ciders, and food can be ordered from Jester King's pizza kitchen and food truck.
Mozart's Coffee Roasters 
3825 Lake Austin Blvd.
Coffee lovers and dog aficionados alike can find a homebase in Mozart's Coffee Roasters, one of Austin's favorite coffee shops situated right on Lake Austin. The lakefront view and wide open patio combine to make this an outdoor haven that happens to serve delectable baked goods and house-roasted coffee. Plus, the larger than life Mozart's Christmas Light Show is held here annually and makes for a family-friendly and pet-friendly activity every winter.
MUTTS Canine Cantina Austin
9825 N. Lake Creek Parkway
A welcoming restaurant and beer garden with two off-leash dog parks, MUTTS Canine Cantina® Austin is a welcome addition to the local dining scene. Debuting in the capital city this August, the franchise comes to town after opening in Allen, Fort Worth and Dallas, with more locations coming soon. Patrons can eat and drink while their precious pups play to their hearts' desire here, and day passes, monthly and annual memberships are available.
Banger's Sausage House & Beer Garden 
79 Rainey St.
Banger's is best known for their massive mimosas that each hold a full bottle of champagne with a splash of orange juice, the perfect beverage for a weekend brunch with friends — and pets are invited! The large outdoor seating area is reminiscent of a German biergarten, and they even sell a "WoofWurst" for your furry friends. Banger's Sausage House & Beer Garden is a consistent highlight on the ever-evolving Rainey Street for both its scrumptious menu items and its pet-friendly atmosphere.
Bouldin Acres 
2027 South Lamar Blvd.
Put together outdoor pickleball courts, multiple food trucks, lawn games, a playground and a full-service bar and you'll get the outrageously fun Bouldin Acres. Home to a very dog-friendly patio, this eatery is always bustling with Austinites enjoying each other's company. With a second location coming soon to Braker Lane, Bouldin Acres is a popular hotspot for people and pets.
The Watering Bowl ATX
820 FM 1626
South Austin's woman-owned outdoor dog park and bar really caters to the pups thanks to their attentive Rufferees, inviting splash pad and dedicated shy and small dog zone. Register your dog ahead of time to save time on your first visit. Once you arrive, order a hard kombucha or beer for yourself and a pup cup or dog beer for your little best friend.
Easy Tiger
Multiple locations
Easy Tiger started with a downtown location and has quickly become an Austin institution with three spots across town, each one boasting ample outdoor space where on-leash pups can join in on the fun. The beer garden and bakery has a little something on the menu for everyone to enjoy.
Radio Coffee + Beer
4204 Menchaca Road
Part-coffee shop, part-bar, Radio Coffee + Beer is consistently packed with dog lovers and their animals. All people and dogs are encouraged to visit their large outdoor space! Radio hosts multiple food trucks on their property, including Veracruz All Natural and Briscuits, and their bartenders are whipping up just about anything, including a tasty Espresso Martini and cool Carajillo.
Hank's 
5811 Berkman Dr.
Known for their light and airy aesthetic and large covered front porch, Hank's is a pet-friendly restaurant serving up reliably delicious food and drinks in the Windsor Park neighborhood. Happy hour is the best time to visit, with deals like $7 frozen cocktails, tap cocktails and tap wine available, but this establishment is an ideal venue at any time of day. A coffee shop, bar and café all in one, Hank's is a perfect place to gather.
Bouldin Creek Cafe 
1900 South 1st St.
This iconic vegetarian establishment welcomes pets on their covered patio and provides dog bones and water bowls to keep those pups happy and healthy. Guests can dine outside for breakfast all day, lunch or dinner, and there's no need to leave a pet at home.
Beerburg Brewing
13476 Fitzhugh Road
Beerburg Brewing is not your average brewery. It's a family-owned and operated Hill Country brewpub that's dedicated to sustainably crafting creative batches of beer with home-grown ingredients. On top of the amazing beers, Beerburb Brewing's location on Fitzhugh Road holds a large double-gated dog park with nearby tables where guests can order and enjoy a drink while still tending to their pets. Beyond that, pets are welcome outside, but must remain on leash.
Blue Lacy 
1825 McBee St. A newer addition to the Mueller development, Blue Lacy serves elevated diner food with a Texas spin, and they even have a menu for the dogs in your life! Your pooch can devour some Doggie Ice Cream or Bowser Beer served in a dog bowl, while you enjoy your own fare, perhaps the Meatloaf Patti Melt or the Chef's Blue Plate Special.