The Best Austin Movie Theaters
By

Meher Qazilbash
April 22, 2023
Nothing beats the excitement of going to the movies. Lucky for Austin cinephiles, the city offers a diverse array of viewing experiences. Whether you're going with a date, friends, or solo, you get to choose from an art house theater, an old-timey drive-in, a cineplex with dining, a grand historic auditorium, and more.
Here are some of the best Austin movie theaters in town, each with its own style and approach to showcasing cinematic delights.
AFS Cinema
6259 Middle Fiskville Road
Austin Film Society (AFS) is a non-profit establishment and Austin's premier art house cinema. Founded in 1985 by Texas legend Richard Linklater, AFS is an organization dedicated to uplifting the careers of Texas filmmakers and diversifying the town's movie-going culture. Gain exposure to alternative cinematic artwork by attending a screening of an international narrative, documentary, or special program. These screenings highlight significant moments in movie history and culture, providing a unique opportunity to expand your cinematic horizons.
---
Alamo Drafthouse
Multiple Locations
Since its inception in Austin in 1997, Alamo Drafthouse has blossomed into a nationwide chain with five cherished locations in the capital city. Discover a movie house that's especially playful and filled with personality, offering immersive showings that go beyond traditional screenings. You can attend parties, brunches, and even costume cosplays, in addition to watching your favorite films in a whole new way. One of the major perks is the high-quality food and extensive drink menus.
---
Blue Starlite Mini Urban Drive-In
300 San Antonio Street
2015 E. M. Franklin Avenue
Watching a film becomes a treasured memory at this modern drive-in. With limited availability of spots per presentation, intimacy sets Blue Starlite apart. Its lineup consists of an eclectic mix of titles, from new Hollywood releases to cult classics. Popcorn, candy, and soda are sold on-site.
---
Moviehouse and Eatery
7415 Southwest Parkway, Building 7
8300 North FM 620, Building B
Dinner and a movie is a concept taken to the next level at this dine-in center. Moviehouse and Eatery elevates a trip to the big screen with plush recliners, a waitstaff, a gourmet menu, and a full-service bar — all while you're thrilled by Hollywood's latest blockbusters. Just press a button for the food or beverage items you desire and watch without interruptions.
---
The Paramount Theatre
713 Congress Avenue
Established in 1915, this iconic venue has hosted a rich variety of performances and screenings for over 100 years. Located downtown on Congress Avenue, visit the luxurious and impeccably-preserved architectural structure for its exciting programming each season. Bonus: The Summer Classic Film Series is a great way to escape the Texas heat.
---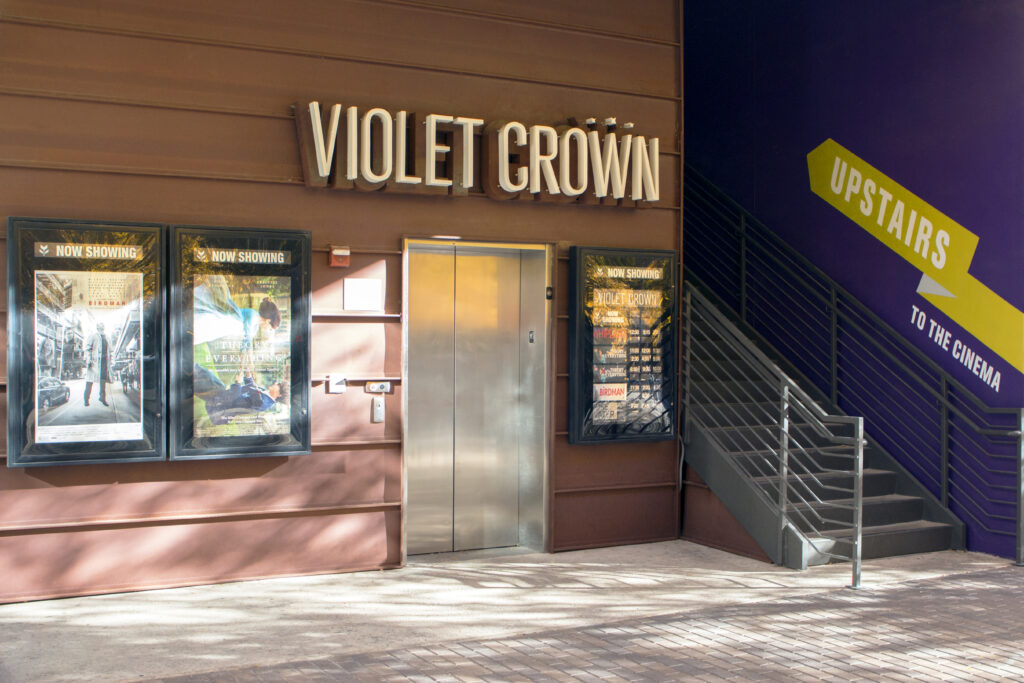 Violet Crown Cinema
434 West 2nd Street
In downtown's 2nd Street District, Violet Crown Cinema invites those meandering around the city to stop by for a flick. Its wide spectrum of options includes the latest must-see films, independent releases, and special showings of timeless classics. Arrive early to enjoy a beverage at its elegant bar and take your pick of popcorn, candy, sodas, or food before the motion picture starts.
---
Bullock Museum IMAX Theatre
1800 Congress Avenue
Get a Texas-sized 3D experience at the Bullock Museum IMAX Theatre. Using modern laser technology, the entertainment center displays Hollywood hits as well as stunning educational programming. The Bullock is also home to the Texas Spirit Theater, which provides similarly immersive effects for viewers. While in the area, explore the magnificent exhibitions the museum offers and learn more about the state's history.
---
Doc's Drive-In
1540 Satterwhite Road, Buda
If you want to leave town for an adventure, Doc's Drive-In is a short drive out to Buda. Doc's invites moviegoers to enjoy beloved titles from every decade in its charmingly nostalgic space. Scroll through its online calendar, buy tickets in advance, and bring whatever supplies you need to be comfortable. Food and drinks can be purchased from its on-site diner and underground speakeasy bar.
---
Flix Brewhouse
2200 South Interstate 35, Suite B1, Round Rock
Founded in 2011, Flix Brewhouse is the country's only first run dine-in-cinema-meets-brewpub. With 10 U.S. locations, the recently renovated flagship features luxury recliners and robot servers. Be sure to take advantage of Discount Wednesdays, as well as student and military discounts.
---
EVO Cinemas
166 Hargraves Drive, Suite A100
Austin-based EVO Entertainment Group provides motion pictures and other amusement options around the country. Halfway between Austin and Dripping Springs, EVO Cinemas is located in the Belterra Village Shopping Center alongside myriad restaurants and activities. Catch the latest major motion picture you've been dying to see and make an evening of it.