Where to Find Incredible Italian Food in Austin
What's better than a slice of pizza or a bowl of fresh pasta with a glass of wine? These local haunts are elevating classic Italian dishes to new levels — try them out to discover your new favorite Italian spot in town.
Sammie's Italian Restaurant
807 West 6th St.
Believe the hype on this one — Sammie's is an incredible special occasion restaurant serving Italian classics to rave reviews. Landmark dishes include the Sammie's Lasagna, Chicken Parmigiana and Spaghetti with Meatballs, a family recipe from Chef Nick. It can be difficult to get a reservation ahead of time, but we recommend checking their website day-of or arriving early when the eatery opens at 5 p.m. to snag a last minute spot. For a more casual experience, try Favorite Pizza, Sammie's sidekick pizza spot next door.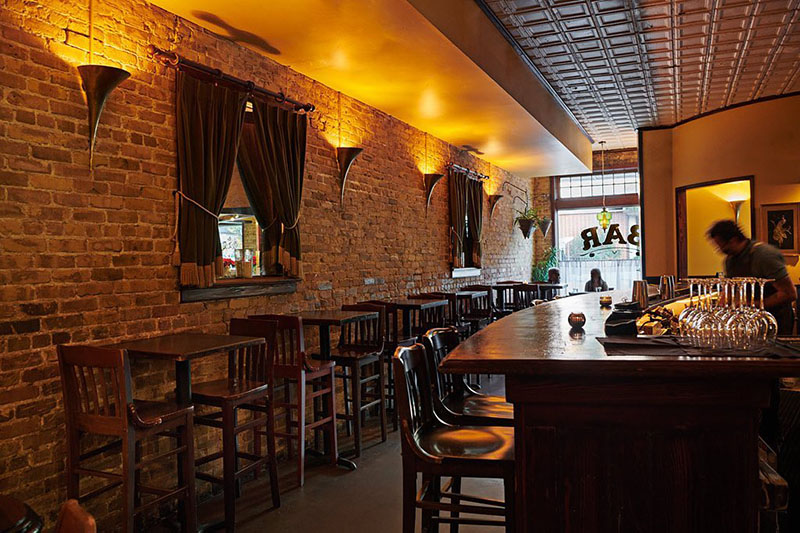 Vespaio Ristorante
1610 South Congress Ave.
Open for 25 years, Vespaio is a South Congress mainstay serving flavorful dishes made from locally-sourced, seasonal ingredients. At Vespaio, chefs handle all of the butchery in house and hand make the pastas. They also bake their own bread, make their own cheese and craft their own desserts. The building was once a Western wear shop and a grocery, and today, the space still fills up with longtime fans of the delectable Italian fare.
Olive & June
3411 Glenview Ave.
Thanks to their gorgeous outdoor seating options and moody indoor dining room, Olive & June is a wonderful place for a romantic date night or intimate meal with friends. The pastas are made by hand daily, prepared with fresh ingredients and served with dynamic accompaniments. Their Italian wine selection is robust, and the restaurant hosts a premier happy hour with half-price beer, select wine and cocktails available for guests.
Red Ash Italia
303 Colorado St.
Executive Chef John Carver is bringing handmade pastas, prime meats and fresh seafood to the table at Red Ash, where reservations are hard to come by, but worth the effort to secure. The eatery holds a custom-built wood-burning grill and oven, which notably influences the menu in items like the Wood Roasted Beef Bone Marrow and Wild Red Snapper A La Plancha. The pasta is made in-house daily and offered in many inspired varieties, including the Frutti De Mare and Tagliatelle Alla Bolognese.
L'Oca d'Oro
1900 Simond Ave.
L'Oca d'Oro is Mueller's neighborhood Italian restaurant, known for its fantastic food and sustainable sourcing practices. Co-owner and Chef Fiore Tedesco spent time working at Franklin Barbecue and Bufalina before bringing his talents to L'Oca d'Oro. The eatery hosts many events, inviting locals to partake in a wonderful meal while connecting with one another. The team at L'Oca d'Oro hand prepares farm-to-table food and welcomes their community into their gorgeous location with authentic hospitality and care.
Patrizi's
2307 Manor Road & 1705 Cuernavaca Drive
Some of the best pasta in Austin is being served from an Italian food truck outside The Vortex. Patrizi's, which now also boasts a brick-and-mortar on Cuernavaca, is a crowd-pleasing answer to the question, "What's for dinner?" Their fettuccine pasta is made with semolina flour and local eggs, elevating Cacio E Pepe, Pomodoro, Carbonara Alexandra and other pasta dishes to new heights. Matt and Nic Patrizi are paying homage to their family roots with this Italian destination in Austin.
Juniper
2400 East Cesar Chavez St.
Head to Juniper for a curated culinary experience from owner Nic Yanes and Executive Chef and Culinary Director Mike Warnock. The Prix Fixe menu, available for $85 with an optional wine pairing available for $55, features housemade pasta and bread, along with amazing sweets. There's also an A La Carte menu for those who prefer to choose their own courses.
Mandola's Italian Kitchen
Multiple locations
For a quick and casual, but still tasty Italian food experience, head to Mandola's Italian Kitchen, which has multiple locations across town. They've got all the classics — Spaghetti and Meatballs, Eggplant Parmigiana and Gnocchi with Bolognese to name a few — and their daily features are worth a try as well. Order at the counter and you'll notice plenty of scrumptious Italian desserts to add to your meal. Mandola's is also a great option for take-out!
Gusto Italian Kitchen
4800 Burnet Road
Burnet Road is home to many wonderful eateries, and Gusto Italian Kitchen is a top spot thanks to its Italian classics. The weekly specials include 25% off all bottles of wine on Monday nights, half-off all pizzas on Tuesday nights and 50% off all bottles of rosé all day on Thursdays. We also love Gusto's family-style takeout to make a weeknight dinner much simpler.
Il Brutto
1601 East 6th St.
Il Brutto is the cool Italian spot on the block, giving guests a taste of authentic cuisine in a stylish space. Executive Chef Ering Halilaj was raised in Italy, which influences the range of dishes available on the menu. Il Brutto's extensive offerings include fresh pasta and pizza baked in a Neapolitan wood-burning brick oven, as well as an amazing beverage program. There's even a couple gluten-free pasta options available for those who need it.
Intero
2612 East Cesar Chavez St.
Run by Chef Ian Thurwachter and Chocolatier/Pastry Chef Krystal Craig, Intero showcases seasonal dishes made from local meats and produce with traditional Italian culinary techniques. The dinner menu is always changing, but perennially includes ingredients from ranches and farms across Texas, and they even offer gluten-free pasta for diners. Plus, Intero's small batch-chocolates are absolutely scrumptious, offered in staple and rotating flavors.
The Backspace
507 San Jacinto Blvd. & 1739 West Anderson Lane
The Backspace feels like a hidden gem where you'll find great food and tasty drinks, and you'll almost never have to wait for a table. The menus differ a bit between the two locations, but the pizza is the highlight of the dining experience in both spots. Flavors include the traditional Pepperoni Americano and Margherita, as well as more creative spins such as the Bianca and Speck pies.
Bufalina and Bufalina Due
2215 East Cesar Chavez St. & 6555 Burnet Road
Both Bufalina and Bufalina Due deserve spots on this list for their Neapolitan pizza alone, but they also carry an outstanding array of wines by the glass and by the bottle. The pastas are similarly fantastic, and the Bufalina and Bufaline Due happy hours are pretty unbeatable thanks to half-off pizzas and bottles of wine under $100 and $6 glasses of house wine.
Dean's Italian Steakhouse
110 East 2nd St.
Dean's Italian Steakhouse serves incredible meat and freshly-made pastas in a classic steakhouse environment. Their impeccable service contributes to an overall upscale meal, complete with shareable sides, decadent house specialties and elegant cocktails. A newer addition to the downtown dining scene, Dean's is an epic option for a night on the town.