15 Out-of-the-Box Weekend Getaways for Austinites
By

Avery Matschek
September 27, 2023
From yurts to cabins to treehouses, there are many unique places to escape the city for weekend getaways full of relaxation. Hop in the car and head to one of these eccentric and amazing lodging options, each one just a short drive from Austin.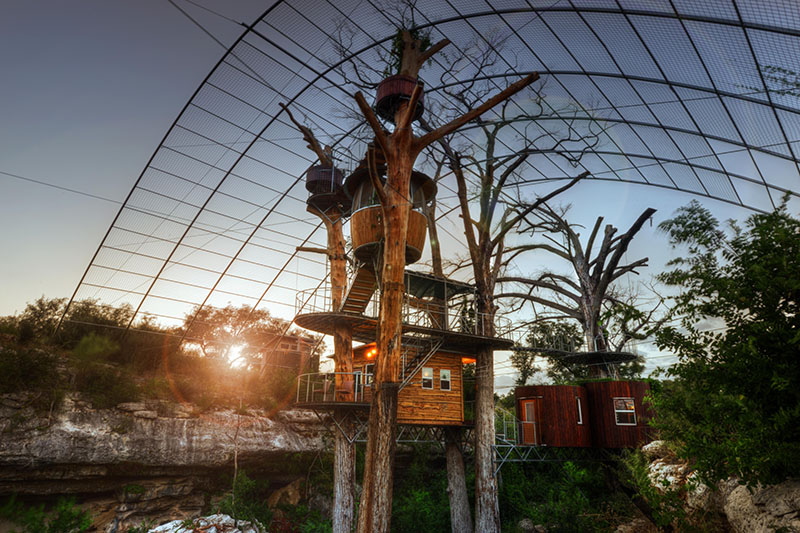 Cypress Valley
1223 South Paleface Ranch Rd., Spicewood, TX

Childhood dreams come to life at Cypress Valley, where guests can escape to a charming treehouse that provides both comfort and adventure. Originally a family ranch, the land is home to beautiful animals and stunning cypress trees. The treehouses range in size, but each one presents a serene setting for a private getaway. Brand new to the resort are glamping tents, which feature a king-size bed and private deck.
---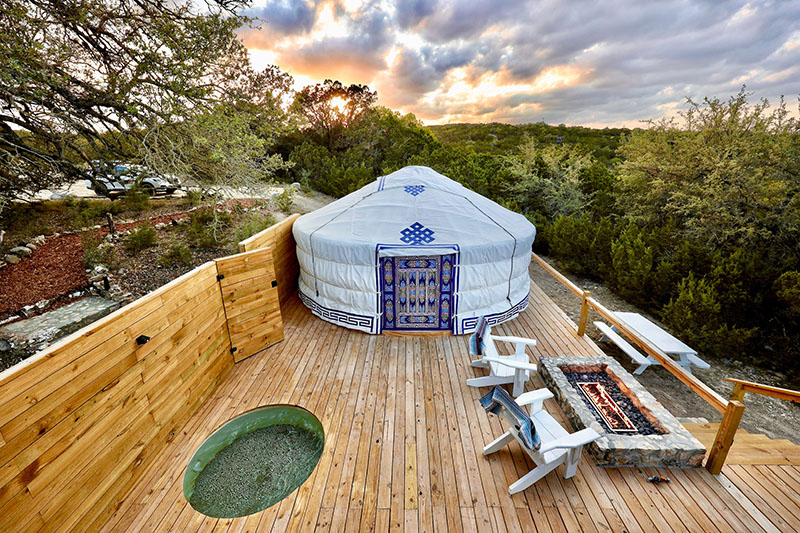 The Yurtopian
135 Winn Ranch Rd., Wimberley, TX
The Yurtopian, with locations in Wimberley and Dripping Springs, gives visitors the chance to relax in hilltop yurts. The retreat's Remote Yurts each have their own hot tub/pool, kitchen, fireplace, bathroom and rooftop deck, while its Communal Yurts offer a shared playground and access to the Blanco River. Wimberley is home to both Blue Hole Regional Park and Jacob's Well Natural Area, making it a great getaway destination for anyone looking to unplug and dive into nature.
---
Camp Fimfo
520 Whitewater Way, New Braunfels, TX

Camp is not just for kids thanks to Camp Fimfo, a Guadalupe River retreat that offers a range of camping and glamping accommodations. From top-notch RV sites to custom-designed cabins, there are many ways to stay. Families can also enjoy a number of outdoor attractions, such as an interactive water playground, mini-golf course, wading creek and a giant jumping pillow. Interested in heading a bit north? Visit Camp Fimfo's second location, which sits along the Bosque River in Waco.
---
Flophouze Shipping Container Hotel
1132 West FM 1291, Round Top, TX
Recycled shipping containers transform into cozy, unique lodging options at the Flophouze Shipping Container Hotel in Round Top. A truly funky experience, Flophouze's interiors feature sustainably harvested wood, counter tops made from old bowling alley floors and a myriad of vintage accent pieces.
---
The Retreat on the Hill
4325 Cottonwood Dr., Cottonwood Shores, TX
About an hour-long drive from downtown Austin, the Retreat on the Hill provides sweeping views of the Texas Hill Country from a range of lodging options. We recommend the Stardome Suite, a clear, bubble-like structure that lends itself to an epic night of stargazing at the highest point of the property. Located 101 feet above Horseshoe Bay, this is a photo-worthy spot with views for days in a romantic, private setting.
---
Collective Hill Country
7431 Fulton Ranch Rd., Wimberley, TX
At Collective Hill Country, it's camping, but elevated. Nestled on a ridge overlooking Montesino Ranch, the retreat has a number of gorgeous tents for visitors. Along with the lush lodging, Collective Hill Country provides amazing experiences like in-tent massages, sound meditation and campfire s'mores. And don't miss the food here — guests can take advantage of decadent multi-course tasting menus from fresh produce and hand-selected meats.
---
The Cell Block
120 Clifton Art Alley, Clifton, TX
Ever wanted to spend a night behind bars? That's the premise of The Cell Block, a former city jail that has been transformed into a quaint and quirky one-bedroom, one-bathroom hotel in Clifton, Texas. Stop in for a stay at the cleaned-up version of the original jail, complete with steel cell doors and handmade dominoes, a nod to the pastime of prisoners decades ago. The Cell Block even has its own line of wine, The Cell Block's Tempranillo, from nearby Red Caboose Winery.
---
Rancho Pillow
11222 Schuster Rd., Round Top, TX
Rancho Pillow is a 20-acre wonderland located about seven miles from Round Top's town square. Owner and designer Sheila Youngblood has created a colorful, creative venue with a heated saltwater wading pool, poetry library, fire pit and much more. Popularity peaks during Round Top's semi-annual Antiques Fair, held in the spring and the fall, but Rancho Pillow is a worthy place to visit any time of year.
---
Serana
197 Orts Ln., Paige, TX
With 54 acres of land chock full of amenities like an outdoor gym, pool and yoga deck, Serana has a lot to offer as a weekend getaway. Interaction amongst guests is fostered through a communal kitchen and dining area, but privacy is still a priority in the intimate Kampinas (cabins) that have full electricity, air conditioning and heat. Only 45 minutes east of Austin, it's a quick trip for locals looking to get their nature fix.
---
Lucky Arrow Retreat
3600 Bell Springs Rd., Dripping Springs, TX
Lucky Arrow Retreat, the self-proclaimed "Glamping Capital of Texas," is nestled in the Hill Country. With yurts and cabins, guests can choose their own getaway adventure to find an ideal setting. Lucky Arrow is also perfect for private events and weddings thanks to its ample outdoor venue space.
---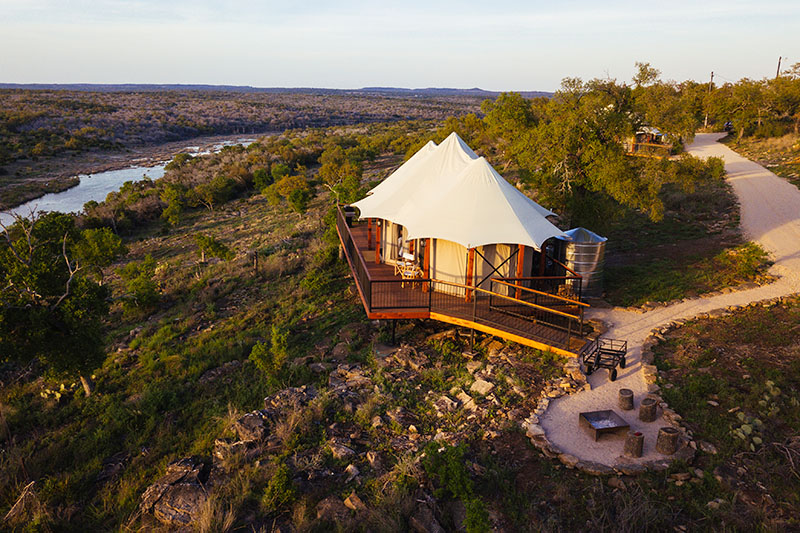 Walden Retreats
1388 Gipson Rd., Johnson City, TX
Relaxation and restoration abound at Walden Retreats, a recently renovated 96-acre nature mecca just an hour away from Austin. Their luxury safari tents offer the best of both worlds, combining a getaway experience in the great outdoors with the pleasures of a five-star hotel. The riverfront property is close to a number of activities, including the 290 Wine Trail, Luckenbach Dance Hall and Pedernales Falls.
---
Hill Country Herb Garden
405 Whitney St., Fredericksburg, TX
Recently reopened after a significant renovation, Hill Country Herb Garden now has 14 cottages, 154 unique botanical species and a luxurious spa. Located just a few blocks away from Main Street, this wellness-focused venue is an incredible homebase for your next Fredericksburg visit. Every cottage stay includes a complimentary breakfast delivered to your door in the morning, and the spa has many customized options for unwinding.
---
El Castell Cabins
102 Rockin River Rd., Castell, TX
Get a taste of cabin life at Llano County's El Castell Cabins, where guests can indulge in fun activities like kayaking, biking and fly fishing. The four cabins are a great fit for couples or smaller group getaways, while the large house on property is superb for extended families reuniting in the Hill Country.
---
Bonus: For a longer drive
Willow House
23112 FM 170, Terlingua, TX
If you're interested in a longer road trip, head to Willow House, a twelve casita retreat in Terlingua. This relaxing setting, which is only six miles from Big Bend National Park, is for those looking to explore during the day and enjoy the views of the Chisos Mountain Range at night. Willow House can be rented out for weddings, birthdays or other events, but it's also perfect for guests who want to meet new friends, thanks to the communal Main House and nighttime fires.
---
El Cosmico
802 South Highland Ave., Marfa, TX
Take a weekend to travel all the way to Marfa — El Cosmico is worth the drive. The extensive campground is home to renovated vintage trailers, Sioux-style tepees, Mongolian yurts and much more. Nomads from around the world seek out this hotel for its rich culture and ever-growing calendar of events, including the Trans-Pecos Festival.
---