Tribeza's Guide to a Weekend in Fredericksburg
By

Holly Cowart
July 11, 2022
Narrowing down all of the wonderful things that make Fredericksburg a top travel destination for Austinites is a pretty difficult task. Founded by German immigrants in 1846, almost everything in this charming town comes with a rich backstory. Take the day or an entire weekend to check out some of our favorite stops and experience the distinct fare and exquisite outdoor beauty of one of Texas's most historic cities.
Otto's
316 East Austin St., Fredericksburg, TX
This intimate bistro is a staple for a reason. The team at Otto's has made it their mission to source local ingredients from nearby farms and ranches, creating tempting plates that showcase contemporary takes on German and Austrian cuisines, like the succulent Duck Schnitzel. Plus, the dedicated craft bar program is not to be missed. Open daily from 4 to 10 p.m., stop in for a cozy date night dinner or bring the crew for a special daytime Sunday Brunch menu.
---
Enchanted Rock State Natural Area
16710 Ranch Road 965, Fredericksburg, TX
If your excursion is all about exploring the great outdoors, look no further than Enchanted Rock. A member of the National Register of Historic Places and run by the Texas Parks and Wildlife Department, the name says it all. Expect top tier stargazing, overnight camping, rock climbing and more sporty ventures. It's also good to note that although reservations are not required to visit, they are highly recommended as the popular park often reaches capacity.
---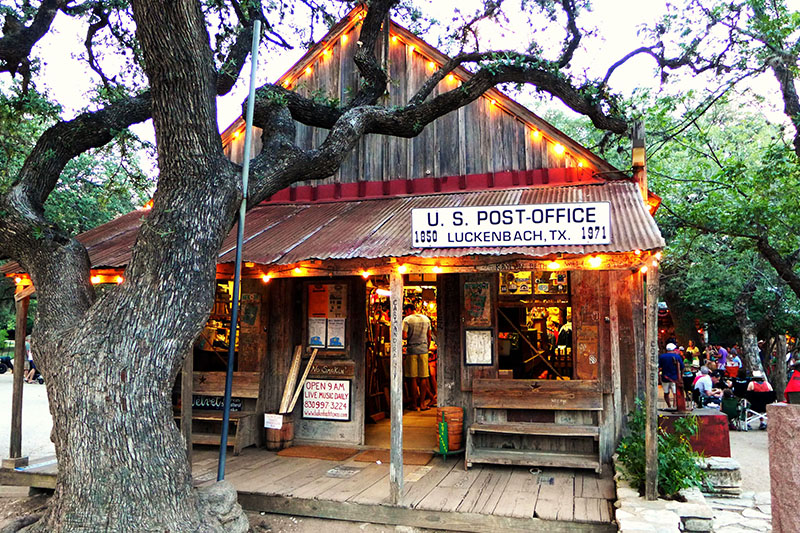 Luckenbach
412 Luckenbach Town Loop, Fredericksburg, TX
Welcome to Luckenbach Texas, where "everyone's someone." An easy way to add character to your trip is to make a small detour to this outpost, found just 15 minutes from Fredericksburg's Main Street. Named after one of the area's first settlers, Jacob Luckenbach, the one-of-a-kind spot holds regular live music performances under its beautiful oak trees and gives visitors a look into its storied past as a small trading post opened in 1849.
---
Fischer & Wieser
1406 South US Highway 87, Fredericksburg, TX
Award-winning specialty food brand Fischer & Wieser recently opened a Farmstead that feels more like a culinary playground. Complete with bed and breakfasts, historic buildings, a tasting room and the artisan Dietz Distillery, you can shop from F&W's full selection of tasty products — be sure to try the Roasted Raspberry Chipotle Sauce. As for activities, they also host an in-depth cooking school within the original Das Peach Haus, covering a range of techniques for groups big and small.
---
FarmHaus Antiques
211 West Main St., Fredericksburg, TX
With many options for vintage, antique and upcycled shopping, Fredericksburg is a great place to hunt for unique treasures. If you're searching for home decor, FarmHaus Antiques is a must. Founded by Hollie Fairchild and conveniently located downtown, the enticing showroom features a detailed collection of custom furniture, accessories and more from around the world. The difficult part will be figuring out how to haul all of your gorgeous new goods back home.
---
Jenschke Orchards
8381 US-290, Fredericksburg, TX
Claiming to have the best peaches in town, this orchard goes by a "pick your own" philosophy, sharing fields of strawberries, blackberries, pumpkins — plus 30 different varieties of sweet, juicy peaches. It's an out-of-the-box activity to make memories and connect with nature in a meaningful way, and what's more rewarding than biting into fruit you harvested yourself? There's also a market filled with homemade goods, a Leroy TexMex BBQ restaurant and, in the fall, an epic corn maze.
---
Pioneer Museum
325 W Main St., Fredericksburg, TX
Visitors are invited to transport themselves back in time into the everyday lives of early settlers right on Main Street. The Pioneer Museum shares the impressive stories of Fredericksburg's first residents through artifacts, accounts and donated buildings, preserving the cultural heritage for future generations. Tours through the 3.5-acre property are self-guided, perfect for history buffs or families that want to add an educational element to their travel plans.
---
Augusta Vin
140 Augusta Vin Ln., Fredericksburg, TX
Although technically a newcomer to Frederickburg's vast and established wine scene having officially opened its doors in 2019, this vineyard is one of the most picturesque settings to take in sublime Hill Country views. The grand two-story tasting room makes an ideal locale to celebrate special occasions as well, with plenty of opportunities for wine tasting and property tours.
---
Pecan Grove Store
5244 North Highway 16, Fredericksburg, TX
Two words: Dino Burger. Made to order, fun toppings include hot pepper relish and nine varieties of cheese (you read that right). But this funky stop is far more than a good meal — it's an experience. The ice house was originally built by Lawrence Segner in 1957 and is overflowing with eclectic decor and remnants from its intriguing past. At Pecan Grove Store, find respite from the Texas sun in a shady biergarten while sipping a frosty beer and kicking back to live music.
---
InSight Gallery
214 West Main St., Fredericksburg, TX

Whether you're an avid art collector or just popping in to browse, it's easy to lose track of time inside the InSight Gallery. The spacious showroom is filled with the works of nationally recognized painters and sculptors that specialize in a multitude of styles, although we particularly enjoy the Western art selection. Owned by Stephen and Elizabeth Harris, the gallery continues to exemplify Fredericksburg's emerging status as a fine art destination.
---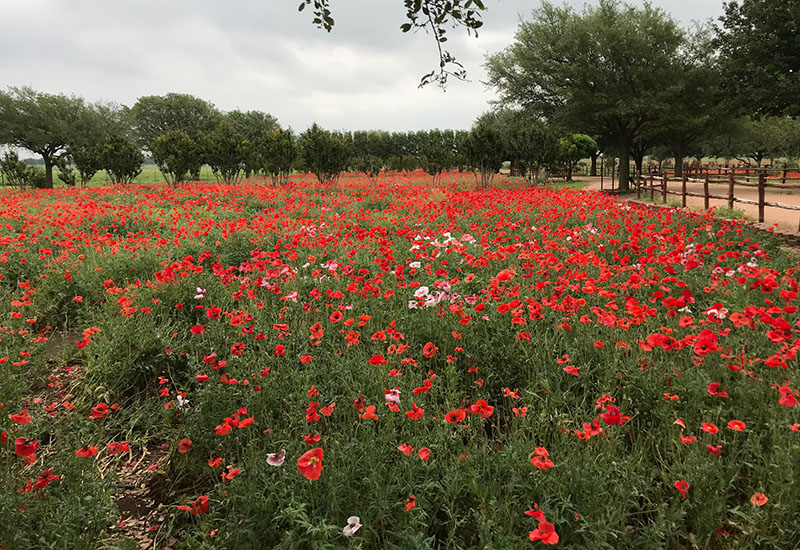 Wildseed Farms
100 Legacy Dr., Fredericksburg, TX
Especially exceptional in the springtime, Wildseed Farms is the largest active wildflower farm in the country, boasting 200 acres of vibrant production fields, walking trails, a deli and a wine tasting room. Better yet? Admission is free, making a spectacular photo-op easy and accessible. When you're finished, check out the on-site garden, home decor and clothing boutiques to find unexpected ideas for souvenirs and gifts.
---
La Bergerie
312 East Austin St., Fredericksburg, TX

If your trip is more culinary-focused, visit this stylish market and wine bar. Situated just a couple doors down from Otto's, they serve a thoughtful menu of cheese and house-cured charcuterie, paired with craft beer and a variety of fine wines, including some harder to find bottles. La Bergerie is a part of the local dining empire of Evelyn and John Washburne, who continue to provide detail-oriented experiences that take diners on an exciting exploration of regional fare.
---
Vogel Orchard
12862 US-290, Fredericksburg, TX
Peach season normally lasts from mid-May through mid-August, but thankfully, guests can enjoy Vogel's seriously delicious preserves and flavorful creations all year. The orchard was initially started by George and Nelda Vogel in 1953 and is now run by their son Jamey Vogel and his wife Terri — it's a family operation through and through. FYI: don't leave without trying the Peach Butter Ice Cream!
---
Pontotoc Vineyard
320 West Main St., Fredericksburg, TX
Add Pontotoc to your agenda now, and you'll undoubtedly want to return every time you're back in town. No extra frills are needed at this intimate weingarten, especially when the vino is this good. Only using grapes grown in the Hill Country, with a focus on Spanish varietals, the hands-on operation is run by a fifth generation family of Texas farmers. On any given day, guests will likely find owners Carl and Frances Money serving food and chatting with regulars alongside their four children.
---
National Museum of the Pacific War
311 East Austin St., Fredericksburg, TX
A Smithsonian Affiliate, this comprehensive museum shares a view into the United States' military efforts in the Pacific Theater during World War II, commemorating the leadership of Admiral Chester W. Nimitz. The museum was renovated in 2020 and now offers more features than ever, from multimedia exhibits and interactive galleries to introspective spaces, like the Memorial Courtyard and Japanese Garden of Peace.
---
Vaudeville
230 East Main St., Fredericksburg, TX
Chef Jordan Muraglia and artist Richard Boprae fused their varying passions in 2012 to establish Vaudeville, the ultimate one-stop hub for dining, fine art and retail. The striking three-story building houses an art gallery, market and luxury boutique selling a mix of items from high fashion to home goods. On the bottom floor, you'll find the elegant bistro, the menu a creative journey that makes a strong case for ordering multiple courses.
---