Kiki Price Adds Sophistication with Showstopping Shoes
The women-led brand blends comfort and style to give shoe-lovers the best of both worlds
Photos by Jessy Bernier
September 22, 2023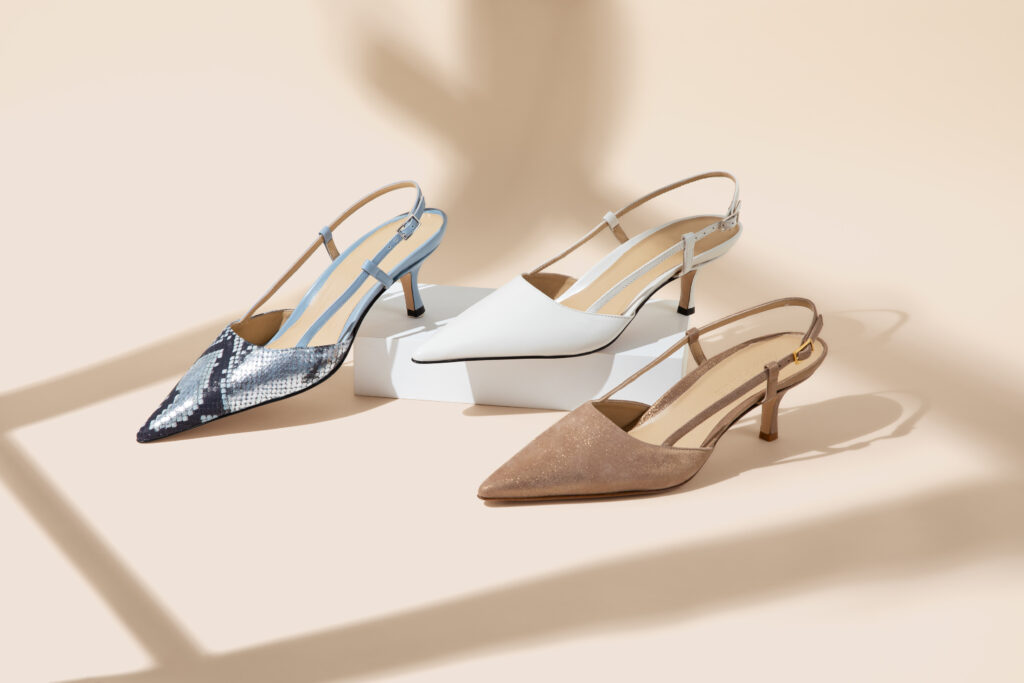 A woman-led company with a self-proclaimed love for "literally" lifting up women is how Kim (Kiki) Baltzell and Lucy Price describe their growing shoe brand, Kiki Price. Based on 40 years of research from podiatrist Dr. Richard Jay of Pennsylvania, the Austin-based line aims to remove stress and pain on feet that you'd normally see when wearing a pair of pumps or heels. Both Price and Baltzell say they gain joy regarding anything they can do to help empower other women and make them feel comfortable in sleek, stylish, sophisticated and unique showstopping shoes.
What are some of your favorite shoe styles in the collection?
Lucy: My favorite all-rounder is the Eclipse boot. It is so practical because you can wear it to walk long distances (I've walked over five miles at a stretch in them to go to dinner), goes with everything, makes your legs look a mile longer, and looks like a high heel but it's only two inches high, which just about anyone can manage. I also love our python slingback. The print is crazy chic and the style is timeless, but the pointed toe makes these shoes look very fashion forward.
Kiki: Hands down, my current favorite is the new chunky heel boot coming this fall. So comfortable, gorgeous — and I am wearing the sample pair and get stopped on the street. Second favorite is the "Love Wins" pump. Jeans, white shirt — those pumps with the message the world should live by makes me happy.
We'd love to hear more about the 40 years of research into comfortable footwear.
Lucy: The comfort comes from Dr. Rick Jay's years of working on insoles for Scherring Plough and Dr. Scholl's. He is a podiatric foot surgeon with over 40 insole patents to his name, so he knows what he's doing. Our shoe styles and shapes are not inherently comfortable. Without Dr. Jay's technology inside our shoe, you might be forgiven for thinking, "Those can't possibly be comfortable." But they are. It's the way the insole cradles the heel and sends some of your weight toward the back instead of all into your toes.
For the coming fall season we are going to be introducing shoes that are what I call "inherently comfortable." By that, I mean they are flat or low-heeled shoes whose silhouettes (the toe box and heel heights) convey instant comfort that I hope will surpass the comfort of similar shoes on the market: a loafer, a low bootie, a chunky bootie, and something I dreamed up for people with real foot pain (bunions, plantar fasciitis, etc.) that we are calling the Combat Ballerina. It has a beefy sneaker bottom with a dainty ballerina upper.
Tell us more about the process in bringing your vision to market.
Lucy: When we started thinking about this project, the pandemic hadn't yet hit and people were still
working out of offices, traveling both for pleasure and work, going out to restaurants, plays, etc. Wearing structured shoes often with heels was considered quite normal and even was the expected footwear at certain events. That all changed, as we know, and women felt comfortable to wear whatever they wanted (sneakers and slides) wherever life was taking them.
We initially stayed the course of making heels and pointed shoes because those were styles that really needed the injection of comfort that Dr. Jay provided. We are very proud that we achieved that, but we too are moving with the times and want to produce more every day styles that women like us can and will want to wear out on an errand, to walk the dog or go sightseeing. Not sneakers but shoes that can replace sneakers and offer the same practical comfort.
What are some of the hottest trends you are seeing in terms of prints and textures?
Kiki: Texture makes everything more interesting. I love earthy materials with a sophisticated edge. Also, I love that the idea of no trend is trending! People want to have individual style and not wait to see what a magazine tells them to wear. That is why there is so much variety now in fashion (and in what we offer at Kiki Price). While animal prints may be popular, to me they are overdone. I love embroidery, messages, poetry on my feet, shoes that are slightly mismatched. (Neither Lucy or I ever wear matching earrings — something we discovered about each other independently.) Also, I love orange — it is the color of creativity.
Lucy: The hottest trends right now don't always translate for people looking for comfort (high heels, pointed toes, strappy styles). Of course, sneakers and Birkenstock type shoes are going to be forever trendy, I think. Women have decided they won't sacrifice their independence and comfort for fashion anymore and the fashion world listened.
Black, pink, white and metallics seem very dominant for this fall and winter season. I feel like those have been the go-to colors for the last two or three seasons, but there is no letting up, especially in footwear. We at Kiki Price are leaning into black and metallics but also into embroidery. Kim and I are very attracted to embellishment and humor, and we wanted that to be a big feature of this season's collection.
How would you describe your personal styles?
Kiki: I tend toward styles that are more androgynous, whereas Lucy has a style that is a bit more feminine. I rarely, if ever, wear black. I love wearing white all year long, and I like simplicity. Even wearing a black belt seems like too much work for me. I feel my outfits are the backdrop for a great coat and shoes. Those are the items that matter most to me.
Lucy: My personal style I would describe as pretty classic in the sense that I like to buy things that I will love not just for one season but for decades. My closet has many, many pieces that I bought over 20 years ago. I tend towards solids, love metallics (silver jeans and a blue jean shirt, sign me up!), and tend to wear things that are body conscious. Shoes have always been the most important part of any outfit as much for the practicality (Can I walk in them a mile or more? Will they work if it rains?) as for the statement they make. I don't often use a handbag or jewelry, so the shoes are the main accessory.
What is your inspiration?
Lucy: My inspiration usually comes from travel. I love going new places and seeing what is being done by local artisans. I am influenced by art, and people watching, and nature.
Kiki: I am inspired by my global colleagues, the colors worn in African countries where I partner in my other work, small neighborhoods in London, graffiti, my beautiful mother and anything worn by Halle Berry!
What is your best advice to someone looking for a comfortable pair of heels?
Lucy: Heels are generally more comfortable if the company making them really took time to last them properly. The last is the wood shape that is used to make ALL shoes. It's the first and most important step in making a shoe that is comfortable. This is why a beautifully shaped but inexpensive shoe (that can look identical to an expensive designer brand) is usually not a good investment. Something will rub, pinch or hurt within minutes of having them on your feet. So that's the first thing.
Secondly, how well the toe box accommodates the front of your foot is crucial to comfort. Thirdly, anything over three inches is a no-no for me. Two and three quarters will give you plenty of lift and elegance but won't pitch your weight forward so much that you walk like a duck. And fourth, a good insole is key, or a great one like ours! It shouldn't be overly cushioned or fat; it should have silicone pads in the forefoot and heel and some arch support.
Kiki: Don't be fooled by instant comfort. A truly good footbed will keep that comfort working all day long. Bedroom slippers feel great the second you put them on, but you try walking five miles in them, and you will have some very sore feet.