LWSN Creates Luxury Glass-Blown Sculptures That Add Brilliance to Any Room
Jason Lawson's contemporary lighting designs provide a dazzling finishing touch to spaces
Jason Lawson made a career of adding a radiance to interiors all over the world. LWSN, the boutique lighting company he founded, creates luxury glass sculptures with a contemporary flare. The masterful craftsmanship shown in all of their projects comes from combining creativity with age-old techniques of off-hand glassblowing.
RELATED: Use Feng Shui to Design a Beautiful and Functional Space
Lawson's induction to the world of glass began while studying graphic design at Texas Tech University. After an introduction to the craft in a class, he switched gears, pursuing sculpture and never looking back.
"Glassmaking has been a coveted craft for eons," says Lawson. "Only in the last fifty years have the techniques been spread across the world. With such a rich history and magical quality, it's hard not to fall in love with it!"
When taking in a serene and still glass sculpture, we often forget the danger, strength and passion involved in creating such a masterpiece. Following the traditional Italian style of glassblowing, the process of making a design involves scorching temperatures, strenuous physical labor and dexterity.
Lawson explains, "The Crystal Antlers, for example, are made by squeezing, pulling, tugging and cutting a solid blob of 2,000-degree molten glass. All by hand. It's a team effort; usually two to three artisans are working together in synchronicity to complete each piece. One antler can take up to sixty minutes to create and once you begin, you cannot put it down until it's done. It's an intense process."
RELATED: Anne Campbell Uplifts Your Interiors with Bold Pieces from Local Brands
The taxing efforts do pay off, and Lawson rose to prominence as a skilled designer in the world of fine art lighting thanks to his work on the Crystal Antler Chandelier. Simultaneously classic and cutting edge, the structure imbues a sense of majesty into every space it enters. It's the buzz behind this magnificent piece that initiated the development of LWSN.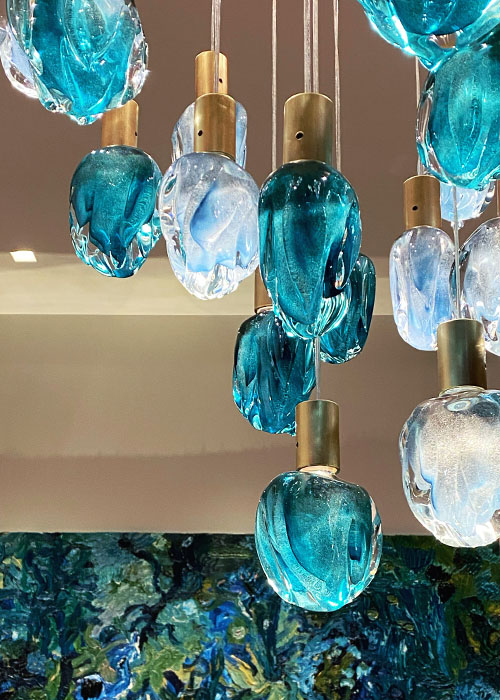 "I realized there was a niche for sculptural lighting in the ultra high-end arena," Lawson explains. "I believed we could use this chandelier as a starting point to create something special."
On a night out on the town he met Carrie Hard, further advancing his dream toward getting realized. Hard had fourteen years of sales and advertising experience in the architecture and design world, and on top of that had a natural chemistry with Lawson. It was fate. She added him to her clientele and from there they began a partnership, in both life and business. Hard eventually committed to working with LWSN full time and the pair brought this labor of love to new heights. Since their collaboration began, the brand has continued to construct innovative designs and create a variety of bespoke lighting sculptures for private commissions that go to clients all over the world.
"Once Carrie joined the team, she not only brought a wonderful sense of design, she also brought in the sales and marketing experience we desperately needed. Her ability to build trust among clients proved an essential element to our success. In 2016, we established LWSN, and that same year, we were a finalist for the International Design Awards in London. From then on, we've been able to permeate the luxury goods market and establish ourselves within it. It's a fantastic sector of the design world and we are honored to be a part of it."
LWSN's distinctive style comes from an array of influences. Inspiration comes from the early 20th century, particularly Art Nouveau and Art Deco, as well as a desire to emphasize balance. An example of this captivating contrast can be found in their combined materials, hand poured bronze and crystal.
RELATED: Ghost Pepper Glass Creates Mesmerizing Glass Blown Sculptures in East Austin
"Good design embodies both the masculine and the feminine," Lawson expands. "It creates a harmony between what is and isn't there and boldly occupies the space. This criteria sets the tone for everything we pursue in our work."
It's extremely noble to be dedicated to the act of producing beauty. As Lawson describes it himself, LWSN is dedicated to bringing "the 'Cherry on Top,' the 'Crown Jewel,' the 'Finishing Touch.'" He expands, "as cliche as it sounds, it's true. We provide that final spark of brilliance to the space."