The Grove Creates New Living Opportunities in Classic Austin Area
The Grove Creates New Living Opportunities in Classic Austin Area
The 75-acre development is utilizing green space and new construction to offer a neighborhood for families and singles alike
By Britni Rachal
Photos by Brent Kilgore
Up and coming in Central Austin — The Grove neighborhood is modernizing areas near 45th street and Bull Creek. Only two to three miles from downtown and with proximity to MoPac and the University of Texas, developers hope neighborhood residents will soon have everything they need within just a few miles, through this 75-acre mixed-use community.
A fitness studio, a spa and several restaurants are planned to be onsite, including recently announced Carve American Grille, owned by Perry's Steakhouse. A recently completed 16-acre park is already open to the public, part of 20 acres of dedicated greenspace within The Grove.
"It's great," says Lindsey Hollander, who moved into The Grove in April 2021. "There's a playground that I think a lot of the families in the neighborhood are excited about. It's pretty to walk by, and there's a little pond and some workout equipment."
MORE: Get the Inside Scoop on Austin's Top Neighborhoods from Local Realtors & Brokers
Soon, based on a plan approved in 2019 and slated to be financed by The Grove, a new pedestrian and bicycle bridge will be built over Shoal Creek, connecting more residents, and allowing for more paths and fitness activities, including the five-and-half-mile-long Shoal Creek Trail.
Centuries-old trees are an attractive quality of the northeast section of The Grove. Part of the master plan of the development includes a restorative approach to preserving the Oak trees and a commitment to planting hundreds of new trees along the streetscapes, along with preservation of wildflowers and rain gardens.
Because of these qualities, The Grove project has received national recognition for offering an urban lifestyle with natural green living spaces. It's also very rare to have a new build community of this scale open in a more established area of Austin.
Homes on the outskirts of The Grove were typically built in the 1950s. A colorful selection with character and unique exterior features line the streets centered around the new development. When you pull into The Grove, you'll see a slightly different landscape — a mix of blended and modern architectural styles.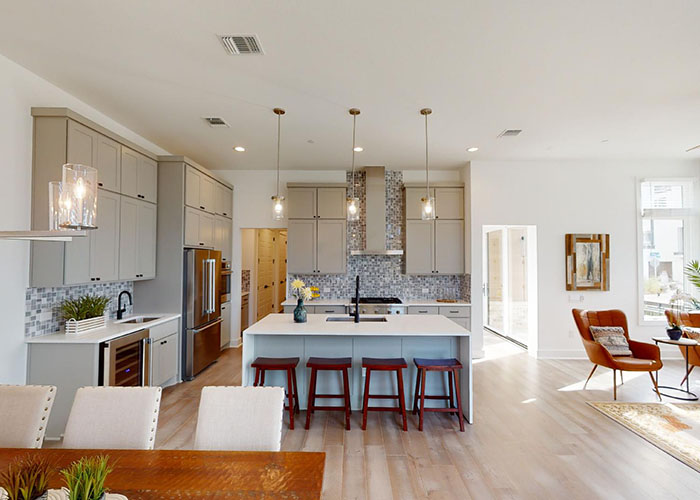 "The opportunity to buy something that has the most current amenities and features in this neighborhood is not common," says Jared Blazer, Sr. VP of Marketing at Milestone Community Builders. "A lot of people who buy in this neighborhood have to budget for a big remodel to get the kitchen they want. To have that right off the bat is incredibly rare and important to our buyers." "I see some of the houses nearby and they are so cute and charming," says Hollander. "But it's also nice to be in a new place. It's exciting."
Originally owned by TXDot, the land was purchased by Milestone in 2014 when it was mostly green space, with just a couple of government buildings. Now large patio opportunities and spacious interiors offered by Weitzman are attracting new business developments, spurring up a new section of the economy and helping neighbors avoid traffic. "Eventually there's going to be some cute boutiques and places for shopping," says Hollander. "Love Cycling is coming, which is really exciting."
While there are established floorplans, developers pride themselves on "no two floor plans being the same." Construction on townhomes and single-family homes started in 2018 and could wrap up as early as this year. Coming soon this summer will be the start of another phase of construction involving 150 condominiums with soon-to-be sparkling interiors.
That newest condominium phase of The Grove will include one, two and three-bedroom homes that range from around 1,800-1,900 square feet. With the condos mostly one-story each, developers think they will have high appeal.
"A lot of people refer their friends and associates to the project," says Blazer. "We also see a lot of families where mom or dad might get a smaller place so they can be in the neighborhood with their kids or grandkids."
MORE: A Brentwood Kitchen Remodel Emphasizes Natural Light and a Touch of Color
"It's definitely a friendly community. If there is someone walking by next to you, they are going to stop and say hello," says Hollander. "There's a wide variety of people — families, singles — it's a true mixed-use community. I like living here."
By the time it is completed, The Grove expects to have a total of 14,000 square feet of retail space. A unique opportunity in a neighborhood with historical significance and proximity to most of Austin.