10 New Austin Spots to Drink and Dine
Take note of these hot new bars and restaurants around Austin
(photo courtesy of Murray's Tavern)
We get it, in an ever-growing city, it can be hard to keep up with the brand-new places to enjoy a cocktail and some flavorful eats. This fall, we've been excited about the opening of these 10 bars and restaurants in our fair city, including several buzzy NYC imports, an upscale sports bar, an East Side spin on a South Austin classic, and much more.
Patty Palace at St. Elmo Brewing
What: From the celebrated team behind Spicy Boys comes a smashburger truck with a retro vibe.
Where: 440 East St. Elmo Street, 78745
When: Opened in August
The Yard, an eclectic business campus in South Austin, is home to a number of beloved local operations: Still Austin Whiskey, Spokesman Coffee, Austin Winery, and much more. One of The Yard's most successful tenants is St. Elmo Brewing, a highly-regarded craft brewery that also serves as a host location for Spicy Boys Chicken, a mega-popular food truck serving fried chicken nuggets and sandwiches with vivid Asian seasonings and garnishes. The Spicy Boys team decided to expand their St. Elmo Brewing offerings by launching Patty Palace, a truck devoted to retro-style smashed hamburgers. Beef smashburgers with cheese (and vegan versions of that dish), French fries, onion rings, and special sauce are what you'll find here, and Patty Palace's small menu allows them to put serious focus on the deliciousness of each item. Plus, they're all ideal partners for a crisp St. Elmo beer.
Victory Lap
What: A polished West Campus sports bar with signature cocktails and bar-food favorites from the team behind Estelle's, Superstition, and Skinny's Off-Track Bar.
Where: 504 West 24th Street, 78705
When: Opened in September
Victory Lap opened in early September just in time for the beginning of football season…which feels appropriate, since the bar is located just steps away from the UT campus. Victory Lap's overall aesthetic shows a deep appreciation for throwback sports bars; they've got tile floors, vintage photos lining the walls, and even dollar bills tacked to the ceilings. But because the prolific bar team behind Estelle's, Superstition, and Skinny's Off-Track Bar are in charge, you can be assured that there will be plenty of modern touches and menus that go beyond what the typical sports dive might offer (cocktails like espresso martinis and spicy watermelon margs, craft beers from local breweries, inventive shots, and food provided by Nocco's Napoletana, who specialize in Neapolitan pizzas).
RELATED: Where to Watch UT Football Games this Season
Cosmic Saltillo
What: An East Austin interpretation of a South Austin classic with a massive (and very eco-friendly) space, a roof deck, signature cocktails and coffee beverages, and an onsite taqueria.
Where: 1300 East 4th Street, 78702
When: Opened in September
Fans of the legendary South Austin all-day cafe known as Cosmic Coffee & Beer Garden spent the summer eagerly anticipating the opening of Cosmic's new East Austin location, and Cosmic Saltillo has certainly lived up to its high expectations. The bar, coffee shop, and taqueria occupies an expansive space that was once home to Austin's Texaco Depot, and the Cosmic team revamped it into an eco-conscious paradise with a rooftop deck, onsite gardens, a pond, and composting stations. The coffee, cocktail, and beer menus are very similar to what you'll find at Cosmic's original locale, but while the OG Cosmic hosts food trucks to provide guests with flavorful bites, Cosmic Saltillo features a proprietary taqueria with serving breakfast tacos, al pastor tacos, fish tacos, veggie chorizo tacos, and much more.
RELATED: Cosmic Coffee is Serving Up Beverages Within Botanical Gardens
Busy Signal
What: A speakeasy-style cocktail lounge in East Austin featuring DJs and live jazz, R&B, and soul performances.
Where: 1104 East 11th Street, 78702
When: Opened in September
In the Rosewood building that once housed the historic Victory Grill (a live-music institution that welcomed acts like B.B. King, Ike & Tina Turner, and Billie Holiday), you'll find Busy Signal, a new cocktail bar modeled after Prohibition-era speakeasies that pairs its intricate beverage menu with a lively rotation of musical performances. Pull up a stool, enjoy an Ella Fitzgerald (mezcal, ginger, honey, lime, pineapple, and a dash of cayenne pepper), and take in a show (or forget the stool and just dance!).
Drinks Backyard
What: A sprawling outdoor bar and live music space in Southeast Austin from the folks who brought you Drinks Lounge and Little Drinks Lounge.
Where: 6328 South Highway 183, 78744
When: Opened in September
Drinks Lounge has been an East Cesar Chavez institution for almost a decade, and its more intimate sister bar, Little Drinks Lounge, successfully brought the Drinks Lounge brand's signature combination of dive bar casualness and quality cocktails to South Congress a couple of years ago. For their next project, the Drinks Lounge team opened a Southeast Austin location known as Drinks Backyard. While Drinks Backyard is a much larger space (with nearly 2 acres of lawn, multiple container lounges, and a stage area), it maintains the laid back charm of its predecessors. Guests can enjoy bites from food trucks, big screens for football games and movie nights, a full coffee program during the day, and a variety of whimsical frozen drinks like a Frozen Espresso Martini, a Frozen Mezcal Paloma, and the tiki-inspired Lava Flow (rum, passion fruit, coconut, and lime).
Verdad: True Modern Mexican
What: A sleek and chic Mexican eatery from the Perry's Steakhouse team with a world-class tequila selection.
Where: 2701 Perseverance Drive, 78731
When: Opened in November
A stylish contemporary Mexican restaurant with big steakhouse energy is now open in Rosedale, courtesy of the Perry's Steakhouse team. In addition to a food menu that combines Texan steak-restaurant favorites with regional Mexican ingredients and flavors, Verdad offers guests a chance to enjoy a remarkable assortment of tequilas. In addition to providing tequila pours and cocktails, Verdad invites guests to participate in sobremesa-style tastings, where they can linger after their meal and get to know Verdad's tequila collection while engaging in lively conversation.
RedFarm Austin
What: An Austin outpost of a lauded NYC Chinese restaurant, RedFarm Austin features bold dim sum made with fresh greenmarket ingredients and a robust cocktail menu to match.
Where: 201 W. 3rd Street, 78701
When: Opened in November
RedFarm, a smash-hit dim sum destination that opened in NYC in 2011, launched its first-ever Texas location in Austin, and fans of vibrant Chinese fare, chic dining environments, and clever cocktails meant to pair well with East Asian flavors find plenty to love about this Downtown Austin spot. Dishes like pastrami egg rolls, Instagram-friendly "Pac Man" shrimp dumplings, and seared rib steak are all on offer, and the RedFarm beverages ollow the same craft standards of their NYC equivalents.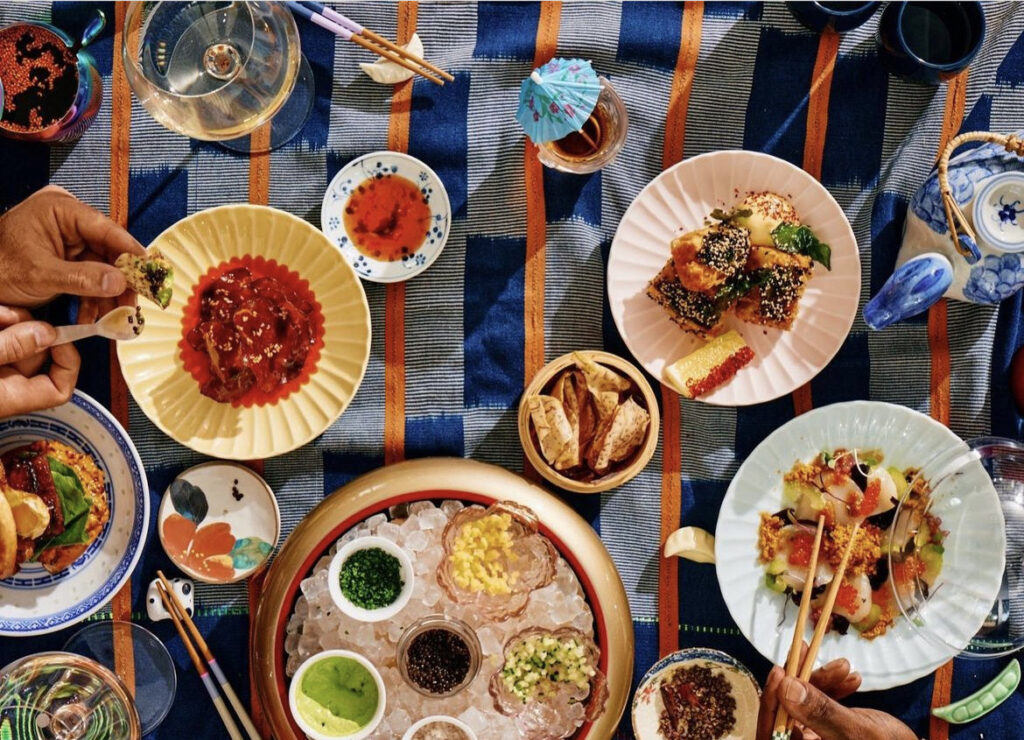 Zoé Tong
What: Another modern Chinese eatery by way of NYC, Zoé Tong will emphasize smoked meats, engaging twists on classic noodle dishes, and tiki-inspired cocktails.
Where: 1530 Barton Springs Road, 78704
When: Opened in November
A brand-new Barton Springs restaurant, Zoé Tong represents an exciting collaboration between two highly-celebrated New York City chefs: Simone Tong of Silver Apricot and (now closed) Little Tong Noodle Shop and Matt Hyland of Emily and Emmy Squared. Tong and Hyland, who now reside in Austin, will focus their attentions on smoked meats (Hyland is especially thrilled about this, since it's tough to operate a smoker in NYC!) and noodles that embrace Tong's and Hyland's culinary backgrounds and incorporate Texan ingredients. In terms of drinks, Zoé Tong serves natural wines, local beers, and cocktails that can counteract the food's lively spice levels, like tiki beverages and frozen margs.
Murray's Tavern
What: A "neighborhood tavern" in East Austin from hospitality pros with spots like Nickel City, Juniper, Uncle Nicky's, and The Dirdie Birdie under their belts.
Where: 2316 Webberville Road, 78702
When: Opening Dec. 8
A collaboration between Travis Tober (Nickel City, Old Pal's in Lockhart), Nic Yanes (Juniper, Uncle Nicky's, The Dirdie Birdie), and Brett Esler (alum of Hestia and Whisler's), Murray's plans to model itself after the neighborhood taverns that were once abundant in NYC. Classic cocktails like Rob Roys and Old Fashioneds will be available to order, as will on-theme eats like burgers, fish and chips, and oysters Rockefeller (all with cheffy twists, of course). In terms of locale, Murray's will occupy the building that once hosted the much-beloved sandwich shop Gourmands, and they're determined to fill a similar niche of "local haunt where everyone feels at home."
The Dead Rabbit
What: An iconic New York City bar brings their "Irish pub, but upscale" concept to Downtown Austin.
Where: 204 East 6th Street, 78701
When: Opening in early 2024
When it comes to NYC bars that have made an indelible impression on the cocktail world as a whole, it's hard to think of a better example than The Dead Rabbit, an upmarket spin on a classic Irish pub that features a wealth of Irish whiskies, a menu packed with tavern staples like Irish breakfasts and sausage rolls, and brilliantly-crafted cocktails (like the Dead Rabbit's signature Irish coffee). By the end of the year, the Dead Rabbit team will bring its mixology skills and hearty eats to East 6th Street, and they look forward to adding some Texan twists to their existing menus.
RELATED: Peek Inside Austin's Newest Cozy Cocktail Bar, Marlow