Fonda San Miguel is a Must-See Mexican Restaurant in Allandale
An Austin icon since 1975, the restaurant serves sophisticated traditional Mexican cuisine in a colorful, art-filled, hacienda-style space
Holly Cowart
December 01, 2021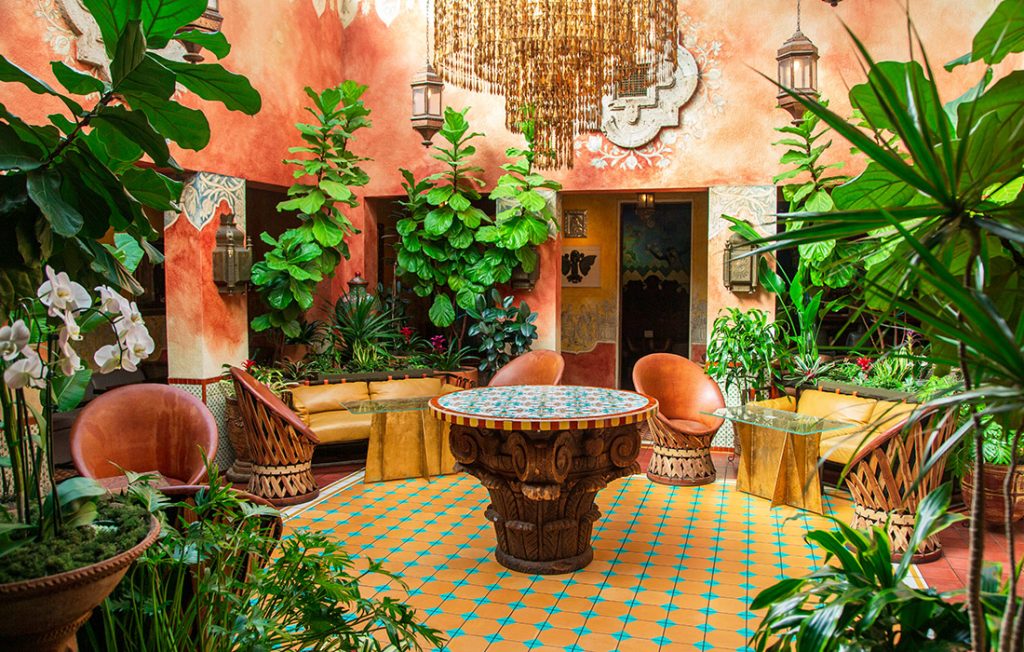 If you're anything like me, you've had a lot of company lately. Folks in town for the holidays, UT games, ACL, F1 or simply to break free from the shackles of quarantine. It's been a busy season. When I have out-of-towners, there are only a handful of restaurants I insist on, and Fonda San Miguel is one of them. After my guests have gorged on the obligatory Austin trinity of breakfast tacos, barbecue and Tex-Mex, I escort them over to Fonda.
In a city filled with great restaurants, Fonda San Miguel is a legend. Open since 1975, this resplendent, sprawling hacienda is a beloved destination for both local and global gourmands. Its authentic Mexican cuisine and ambiance makes diners feel transported to a stylish restaurant in Mexico City, Oaxaca or the Yucatan.
But Fonda is much more than one of Austin's best Mexican restaurants; it's also an unofficial art gallery, social salon and culinary archivist. There's no place quite like it. And there's no one quite like Tom Gilliland, its venerable co-founder/owner, who has graciously presided over it for almost 50 years. Sadly, his original co-founder/owner, chef and restaurant namesake, Miguel Ravago, passed away in 2017. But Gilliland continues to honor Ravago's legacy with his ongoing commitment to unparalleled Mexican cuisine and hospitality. On most nights, you'll find Gilliland circulating in the dining room or holding court in the lounge, greeting customers both old and new with equal enthusiasm.
Gilliland has a similar passion for art and has spent decades collecting museum-quality Mexican and international pieces — paintings, sculptures, textiles and handicrafts — that he showcases throughout his gorgeous restaurant. It's a kaleidoscope of colors and textures that he frequently rotates so diners will see something new and unexpected with each return visit.
Gilliland has also kept the menu fresh by hiring Executive Chef Adolfo Schwalge, a recent transplant who cooked in some of Mexico City's finest restaurants. Chef Adolfo brings a youthful sensibility to Fonda's kitchen while still embracing the classic techniques and regional specialties that are Fonda's calling cards. Classic starters include ocean-fresh ceviches, bite-size tostadas in multiple flavors and sublime guacamole. Another perennial appetizer is Angels on Horseback: plump Gulf shrimp stuffed with cheese and jalapeños, wrapped in bacon, then grilled until caramelized and bursting with flavor. My husband can never resist the cordero: succulent grilled baby lamb chops served with a smoky salsa de morita. And Chef Adolfo is also introducing his own appetizer creations, like the exotic yet rustic Tacos Durados de Jamaica, flautas stuffed with dried hibiscus flowers.
One of my favorite entrees is the Huachinango Veracruzano, a broiled fish fillet smothered in piquant Vera Cruz tomato sauce studded with capers, onions and Spanish olives. The Cochinita Pibil is my husband's go-to, shredded pork seasoned in Yucatan spices, baked in a banana leaf until fork-tender, then tucked into one of Fonda's warm homemade tortillas. A garnish of pickled red onions and homemade salsa make it all sing.
Enchiladas de Pato is a Fonda signature dish. Elegant, savory and rich, they're stuffed with shredded duck and topped with creamy poblano-spinach sauce. The Carne Asada A La Tampiquena is an upgraded version of the requisite combo plate: grilled beef tenderloin served with a cheese enchilada, black beans, rajas and guacamole. On a lighter note, the Calabacitas Rellanas is a favorite vegetarian option: a whole zucchini stuffed with corn and cheese, baked until tender, then covered with jitomate tomato sauce. On some evenings, Chef Adolfo offers original specials, like a recent dish of seared duck breast with a lip-smacking pink mole.
For dessert, there are sweet classics like tres leches cake, flan, and ice cream. But the showstopper is the Crepas de Cajeta, a tender crepe served with creamy goat's milk ice cream and drizzled with silky caramel sauce and toasted almonds. No matter how full I am, I can't say no to this tempting finale.
The bar at Fonda is not only a beloved local hangout, but it also mixes some of the best margaritas in town. The wine list is equally impressive. Service is first–rate and always friendly yet professional. And Fonda's legendary Sunday brunch buffet (temporarily on hiatus) is an impressive spread that always makes my visitors' eyes — and waistbands — pop.
But I don't save Fonda just for houseguests. You'll find me perched at its bar for a light mid-week meal; lingering in its dining room on a weekend date night; or lounging under its atrium skylight, rehashing my day over cocktails with work colleagues. It's a place I return to again and again, year after year. Unlike those unfortunate, infrequent tourists, I'm lucky enough to visit Fonda San Miguel any time I want.
Fonda San Miguel
2330 W N Loop Blvd.
Austin, TX 78756
(512) 459-4121