Comedian Matt Rife Brings Laughter to Austin Audiences
The stand-up star credits TikTok for his rise in popularity as he works to make the most of his time in the spotlight
Portraits by Noah Schutz
Show photos by Brittany Hallberg
As I prepared for my interview with Matt Rife by watching clips of his stand-up comedy, I was a little skeptical. I wondered if he was gaining popularity more for his boyish good looks than for his jokes.
But the more I watched clips of his shows on social media, the more I found myself laughing, sometimes hysterically. He was, admittedly, charming in a way that made the offensive feel innocent, in a way that reminded me of the frat boys I wanted to hate but couldn't — because they were undeniably cute and funny. 
He reinforced this likable stereotype when we hopped on a Zoom interview later that week, and he cheerfully explained that he was in New Zealand with friends who run an adventure YouTube channel. His favorite activity of the trip so far had been zorbing, or rolling down a hill in a giant plastic ball. 
His peppiness was a small relief considering I was interrupting his vacation — and became even more impressive when I later learned that he averages only about three hours of sleep each night. He emanated gratitude for all the opportunities that are suddenly coming his way — on and off stage. 
MORE: 13 SXSW Film and TV Screenings We Can't Wait to See
Much of this success is thanks to the social media clips I had been binging of late. He had been unsure about this outlet at first, at least initially. 
"TikTok has completely changed my life, which is so ironic, because for years I hated it," says Matt. "I find social media to be far more negative than positive in most people's lives. I tried to do things my own way and stay off of it, and it wasn't working. So I was like f*ck it — let's just see what happens." 
If you're a new fan of Matt Rife, it might seem like his overnight success came easy. But it's been over a decade in the making, starting from his growing up in a small town an hour west of Columbus, Ohio. As a kid, Matt was an avid fan of stand-up comedy, constantly watching comedians on Comedy Central Presents and even going to a live Dane Cook show that his mom won tickets to. As early as seventh grade, he recalls telling friends that he wanted to be a comedian when he grew up. 
Not really knowing where to start, he looked up the closest open mic, which was at the Columbus Funny Bone — the most prominent comedy club in the area. The club was 21 and up, but 15-year-old Matt somehow convinced the owner to let him perform. He was already spending weekends and breaks in Columbus with his grandfather. Matt's father had passed away when he was just a baby, so his grandpa, named Steven (Matt's middle name), stepped in to help raise Matt and support him in his comedic endeavors.  
When Matt started performing at the open mics, Steven drove him to the club after school every Wednesday. Being his biggest fan, and because all of Matt's friends were also underage at the time, Steven would also buy all five tickets that were required for performers to sell, even though four seats were left empty. Those open mics, which Matt continued throughout high school, gave him the experience and appreciation he needed to keep his dream alive. 
Matt graduated high school early, at 17, and moved to Hollywood to pursue acting and comedy. It wasn't all glamorous, staying on his friend Erik Griffin's couch for a few months, and then another couch for a couple of years. But he loved it. 
"Especially at that time, Hollywood still felt like Hollywood," he says. "There was a mystique, and it was this beautiful dream place."
 No one in his family had been to college, and there was no pressure for Matt to be doing anything specific after high school. Matt relished those years, couch surfing and bus hopping. But there were also hard times: when he had nothing to do and felt hopeless about his career. 
Eventually, he landed more gigs — and his own apartment on Hollywood Boulevard. While he still appreciates the charm that initially lured him to California, it hasn't been the same since the pandemic.  
"I think COVID really killed Los Angeles," Matt says. "So many people left, the energy left. So there's no reason to have to pay all that rent and live in a city with a bunch of shallow people and travel from East Coast to West Coast for tour dates every single weekend."
MORE: Dear Media Podcast Network Hosts First IRL Event in Austin 
Auditions and interviews have moved from taking place in Hollywood studios to primarily being virtual, allowing entertainers more freedom in where they live. Meanwhile, the comedy scene in Austin has blown up over the past couple of years. With famous comedian Joe Rogan making the move from L.A. to Austin in 2020, many big-name comedians have followed. The reasons differ from person to person but include: easier travel, more affordable cost of living and more welcoming crowds.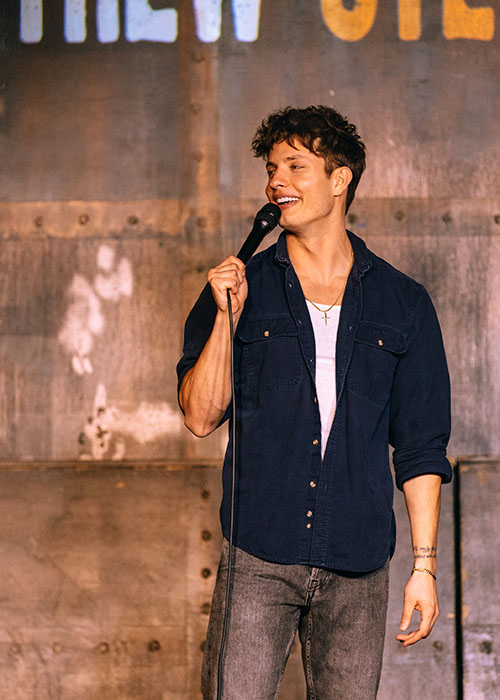 "They're not as sensitive and PC about material," says Matt of Austinites. "So you can do a little bit truer, more open comedy, and not have to worry about getting canceled by an audience member writing a bad tweet about your show. It just opened its doors when we really needed a place to go and work out things." 
Matt just filmed his second comedy special this past December at Austin's popular venue Vulcan Gas Company. Now available online, the special is named "Matthew Steven Rife." Including his middle name is a tribute to his grandfather, whose support was so instrumental in Matt's early years of pursuing comedy, and who recently passed away in November. 
Fortunately, his grandfather got to see Matt's recent success before he passed, which he was obviously proud of. Just last June, Matt was doing small shows for small wages, sometimes just breaking even. Less than a year later, he has millions of loyal followers and is selling out huge venues around the world. Matt is enjoying every minute of it. 
"For years, I was sick to my stomach and miserable, waking up each day with nothing to do thinking, 'Do I have to go back to Ohio, because nothing's happening for me?'" he says. "That's why I love taking every meeting. That's why I love scheduling all these different shows. Because, you know, God forbid, if it doesn't stick around, at least I made the most of it in that moment." 
With the newfound attention from the general public and entertainment industry, he hopes to use this momentum to step into bigger opportunities in comedy, acting and production. As far as what he's looking forward to now that he'll be spending more time in Austin, Rife wants to embrace the Texas ranch lifestyle. He's looking forward to the more down-to-earth lifestyle after hustling in L.A. for so many years. 
Matt's sense of gratitude for his current lifestyle, success and all the opportunities coming his way was refreshing. Needless to say, Matt Rife won me over, and I have no doubt he'll do the same with the Austin community. Check out his new special or a live show if you're lucky enough to find tickets.
MORE: Texas Film Awards to Honor Rising Star Jonathan Majors