15 Romantic Date Night Restaurants in Austin
By

Avery Matschek
September 29, 2022
Whether you want to impress a dining companion on a first date or celebrate a special anniversary with a partner, these local restaurants will provide an intimate setting and delicious dining experience for your next romantic date night.
Jeffrey's
1204 West Lynn St.
A classic for a reason, Jeffrey's is an elegant fine-dining experience sure to dazzle any date. Known for their dry-aged prime beef cut by Lone Star Meats, this is a particularly good spot for the meat lovers. The signature Clarksville location also serves incredible side dishes, desserts, cocktails and much more. Enjoy 25% off bar food and wine by the glass on Monday nights and 50% off bottles of wine on Sunday nights.
---
Canje
1914 East 6th St.
Recently named one of the 50 Best Restaurants in America by the New York Times and one 10 Best New Restaurants of 2022 by Bon Appétit, Canje is a no-brainer for your next night on the town. With a menu inspired by co-owner Tavel Bristol-Joseph's childhood in Georgetown, Guyana, plus other surrounding islands of the Caribbean, Canje is a welcoming tropical space with amazing food to match. A meal at Canje is a date you won't soon forget.
---
Lenoir
1807 South 1st St.
As temperatures cool down, locals should make reservations for a patio dinner at Lenoir, a farm-to-table eatery on South First. Local sourcing informs the Lenoir menu, which is tailored to the produce and weather of the season. For a special occasion, try the Chef's Choice Menu, which features five courses served family-style, with the option of adding wine pairings to accompany each course. Their outdoor area, complete with twinkling lights and lush greenery, makes for a sweet setting.
---
Barley Swine
6555 Burnet Rd.
The menu is constantly changing at Barley Swine, Bryce Gilmore's farm-to-table food haven on Burnet Road. The restaurant partners with local producers like Barton Springs Mill, Jester King Brewery, Texas Olive Ranch and many more. Their passionate staff will lead you through a unique, intentional meal. Barley Swine also works with Zero Foodprint, a nonprofit that helps restaurants reduce their effect on climate change.
---
Lutie's
4100 Red River St.
There's a whole lot of hype around Lutie's, the garden-like restaurant located on the gorgeous grounds of the Commodore Perry Estate. Executive Chef Bradley Nicholson and Executive Pastry Chef Susana Querejazu both worked at local favorites — and highlights of this very list! — Barley Swine and Vespaio Ristorante, among others, before taking their talents to Lutie's, where highlights include the Estate Bread and Texas Beef. We recommend ordering a number of dishes to share with your companion.
---
Qi
835 West 6th St., Unit 114
Chef Ling Qi Wu's latest venture, Qi, is a modern interpretation of traditional Chinese cuisine. The offerings bring together flavors from the chef's upbringing with local organic food, and guests are encouraged to order according to their heart's desire and share it all. Enjoy Truffle Egg Fried Rice, Shanghai Soup Dumplings, Cantonese Fried Whole Fish — and so much more — with your partner.
---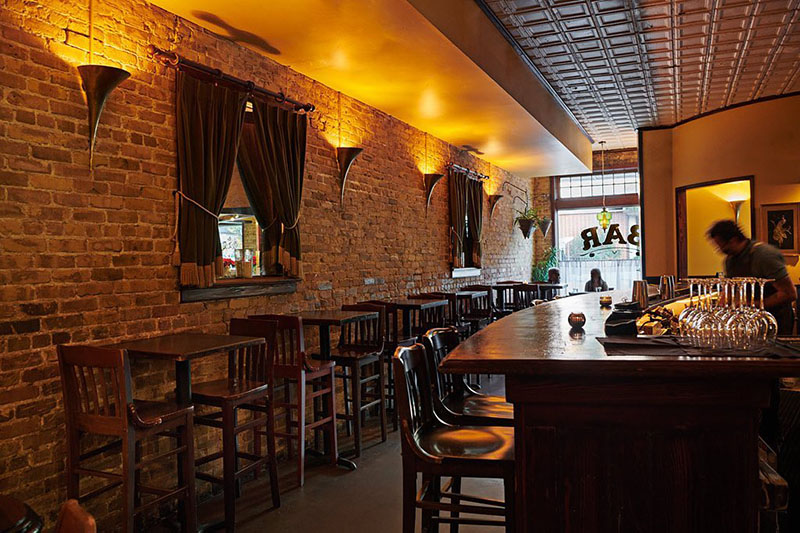 Vespaio Ristorante
1610 South Congress Ave.
Open since 1998, Vespaio Ristorante is the spot for an old-school Italian evening. The eatery operates on a daily menu, so diners can visit again and again for new items every night. With antipasti, pizza, pasta and more, everyone can find a dish to appreciate. And while the neighboring Enoteca Vespaio recently closed, Vespaio Ristorante is still cooking up decadent dishes for Austinites.
---
Fukumoto Sushi & Izakaya
514 Medina St.
Looking for top-notch Japanese cuisine? Check out Fukumoto, an izakaya with sushi, yakitori and sashimi — all shareable items for a duo. Chef and owner Kaz Fukumoto honed his culinary skills in Japan before opening his restaurant in 2015. The friendly staff and cozy dining room make for an ideal first date locale.
---
Olamaie
1610 San Antonio St.
Take one look at Olamaie and you'll think you're walking into a traditional Southern home in the middle of Central Austin. Instead, head inside to discover a refined restaurant serving original takes on Southern classics under the leadership of Executive Chef Michael Fojtasek. The menu is ever-changing, but the constant must-order dish is the Buttermilk Biscuit, a humble pastry made to perfection in house.
---
Suerte
1800 East 6th St.
Suerte, which means "luck" in Spanish, is a vibrant, colorful eatery serving creative food inspired by Chef Fermín Núñez's home country of Mexico. Masa is king at Suerte, so expect to enjoy a myriad of dishes that each feature a version of masa, from tamales to tacos to sopes and more. Looking for an early date night? The East Austin gem hosts a Lucky Hour from 5 to 6 p.m. Sundays through Thursdays, featuring $2 off house cocktails, draft beer, wines by the glass and other deals.
---
Clay Pit
1601 Guadalupe St.
Grab a table for two at Clay Pit, a contemporary Indian restaurant housed in the Bertram Building, a historic locale on Guadalupe Street. House specialties include Lamb Roganjosh, Butter Chicken and Goan Yellow Curry. Both the food and service are incredible in this interesting, unique date environment.
---
Uchi
801 South Lamar Blvd.
If you're going out with a sushi lover, impress them with a meal at Uchi, Austin's longtime favorite sushi bar. Uchi is located in an adorable, chic house on South Lamar. We recommend visiting during their happy hour, held from 4 to 6:30 p.m., to try a number of items at a more affordable price. Every dish is divine.
---
Il Brutto
1601 East 6th St.
This East Austin hot spot specializes in rustic Italian food. Pastas made daily and pizza baked in a Neapolitan wood-burning oven, what's not to love about Il Brutto? The moody interiors contribute to a sultry setting, or you can head outside for a night on their large patio. The drinks here are not to be missed, especially their extensive selection of vermouth, a fortified wine that was first produced in Italy.
---
Eberly
615 South Lamar Blvd.
South Lamar's Eberly is home to gorgeous and impressive interior design in its greenhouse-inspired study, historic Cedar Tavern and rooftop terrace. Relish a whole meal of starters, plates and sides, but don't skip the dessert at Eberly, where Pastry Chef Sarah Seghi is churning out tempting, rich sweets to finish off a lovey-dovey meal.
---
Justine's
4710 East 5th St.
An enticing option for late night lovers, Justine's Brasserie is open from 6 to 11 p.m. every day but Tuesday. Their menu, curated by Executive Chef Justin Huffman, features French classics like Moules Frites, Escargots, Steak Tartare and more. French comfort food, an extensive wine selection and amazing music — sounds like a great combination for a date.
---