Inside Yoga With Adriene's New 'Find What Feels Good' Austin Headquarters
Yoga influencer Adriene Mishler partners with KKDW's Kelly DeWitt for an om-worthy space
KKDW Studio
April 18, 2023
Adriene Mishler, host of Yoga With Adriene and founder of Find What Feels Good, needed a flagship headquarters for her company. She turned to KKDW Studios, Kelly DeWitt's full-service design and construction company.
The goal was to design a space with moveable pieces that could be used immediately as an office and studio. It also needed sufficient flexibility for the company to grow in the future.
"To expedite the timeline and with a mind toward budget, we came up with the idea to create a completely modular, flexible space," explains DeWitt.
"Everything is our original design, inspired by Adriene and her team," DeWitt continues. "It's all bolted together or on wheels so that the Find What Feels Good team can move planters or tables around to make the space — or the shot, if filming — work for them."
Yes, It's The Adriene of 'Yoga With Adriene'
Adriene Mishler hosts the popular YouTube channel Yoga With Adriene. It's an inspiring platform that provides yoga and mindfulness practices to viewers at no cost.
The channel boasts nearly 12 million subscribers, and Mishler herself has 1.3 million followers on Instagram. Find What Feels Good is Mishler's subscription platform that offers more than 900 videos of yoga practice and mindfulness exercises.
Beyond that, Mishler is the co-owner of Practice Yoga Austin, an inclusive and accessible yoga studio that offers donation-based classes and year-long memberships.
MORE: Mesa Rim Climbing Gym Opens First Texas Location
KKDW Designs a Yoga Empire's Custom Space
KKDW Studios handled all aspects of the Find What Feels Good office project, including concept and design, fabrication, and filling the space with appliances, rugs, plants, and more. Dewitt and her team also worked as the general contractor on the office.
The 5,000-square-foot East Austin building now holds three core offices, three coworking lounge spaces, three communal work stations, and a flexible space library and sound booth.
The white focal wall in the office was designed to fit Mishler and her team's filming needs. It features customizable lighting options and space for large equipment to be moved seamlessly.
All furniture in the space is completely custom, designed by the KKDW Studios team.
"It was really important to me that the entire space have a welcoming, homey ambiance," explained DeWitt. "I wanted anyone entering to feel warm and inspired. Walking into the space should feel like a deep exhale."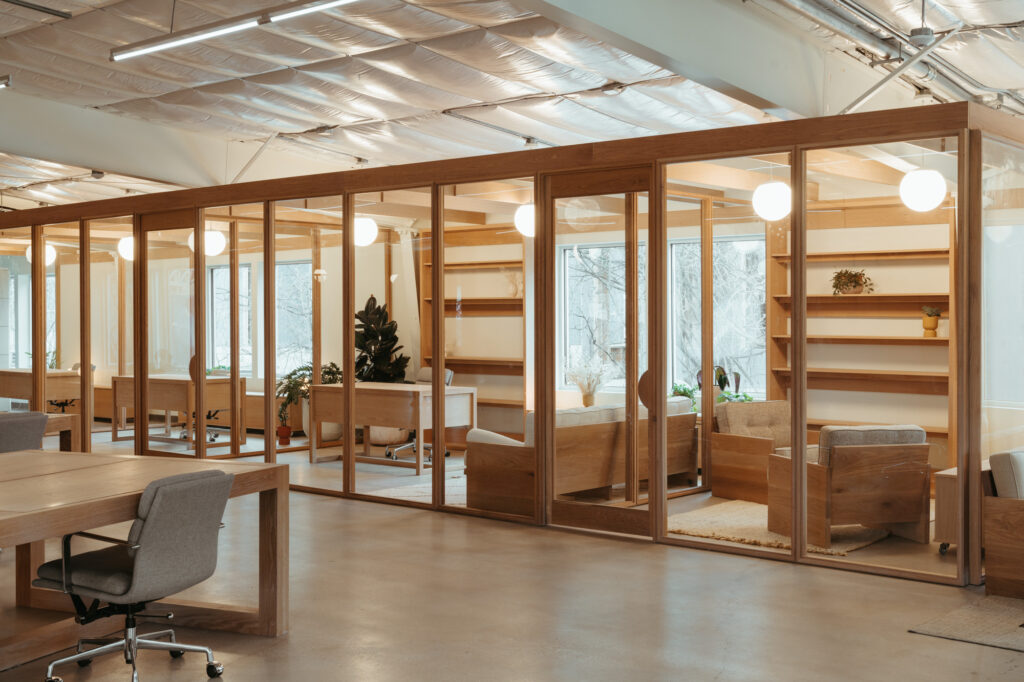 Mishler and DeWitt first connected in 2019 when they appeared together on a panel at Miranda Bennett Studio and have been friends ever since.
"Working with Adriene made this one of the easiest and most fulfilling projects," said DeWitt. "There was a level of trust and love that allowed us to create exactly what we set out to do — build a warm, welcoming space that embraced the growth and innovation of Adriene and her team."
For more on Adriene Mishler and Find What Feels Good, follow along on Instagram or the website. To learn more about Kelly DeWitt and KKDW Studios, visit the company's website.
MORE: Liz Lambert Partners with ICON & Bjarke Ingels Group to 3D Print New El Cosmico