A Guide to Austin's Best Art Galleries
By

Meher Qazilbash
October 25, 2023
Scattered around Austin is a funky variety of art galleries displaying the works of both globally recognized and locally renowned talent. Here are some of the best places in the city for viewing, collecting and mingling with fellow art lovers.
Women & Their Work
1311 East Cesar Chavez St.
Since 1978, Women & Their Work has celebrated historically underrepresented groups in the art world. The East Austin-based nonprofit organization highlights emerging female artists and promotes them to a national stage through a plethora of art showcases and free event programming. On a mission to encourage a dialogue between creators and visitors, the team at Women & Their Work welcomes all guests to enjoy their ever-changing exhibits.
---
West Chelsea Contemporary
1009 West 6th St.
With the spirit of a New York gallery, West Chelsea Contemporary is a haven for avant-garde styles. Those with a taste for modern, pop and street art are in for a treat, as West Chelsea has works from Andy Warhol, Damien Hirst, Takashi Murakami and Yayoi Kusama on display. Browse through the cutting-edge visuals and take advantage of offerings like expert art consulting, delivery and installation and custom framing.
---
Big Medium Gallery
916 Springdale Rd., Unit 2 #101
A part of Big Medium, a nonprofit that offers support to the contemporary artists of Austin, the Big Medium Gallery is a versatile exhibition space positioned inside creative hub Canopy. Wander through the warehouse to see works from the city's most promising talent, and make a day out of your visit by checking out Canopy's other eclectic gallery choices.
---
SAGE Studio at Canopy
916 Springdale Rd., Unit 2 #103
Functioning as both a nonprofit studio and gallery space, SAGE (Supporting Artistic Growth and Entrepreneurship) enhances the careers of artists with disabilities by giving them a place to work and a platform to showcase their craft. Located within Canopy, visitors can admire the imaginative displays and support programs that contribute to identity and career building.
---
Cloud Tree Studios & Gallery
3411 East 5th St.
In 2016, wood artist Brian David Johnson refurbished a Quonset hut originally built in 1948 to create Cloud Tree Studios and Gallery. With a diverse selection of stunning artwork and events like comedy shows and intimate music performances, Cloud Tree is one of the city's coolest cultural hubs.
---
Art Galleries at Black Studies
Idea Lab: Gordon-White Building, 210 West 24th St.
Christian-Green Gallery: Beauford H. Jester Center, 201 East 21st St.
Art Galleries at Black Studies is a center for archival works and contemporary art, located on UT's campus. Featuring two separate gallery spaces, the Christian-Green Gallery and the Idea Lab, AGBS is home to creative art and historical materials that tackle prevalent social issues. Visit to become informed, inspired and engaged in critical conversations.
---
MASS Gallery
705 Gunter St.
For over a decade, this nonprofit gallery and project space has brought Austin's most curious and experimental contemporary artists together. Hosting a wide variety of stimulating programming, including expositions, film screenings, music performances and more, this is the perfect spot for those looking to get involved in the community's arts scene.
---
Wally Workman Gallery
1202 West 6th St.
One of the most distinguished art spaces in Austin's arts district, the Wally Workman Gallery is based in an elegant 120-year-old house. Inside, guests can explore the two-story space and get an intimate look into featured artists' works and craft. In an effort to progress the careers of Austin creators, regular month-long solo shows are held, giving artists significant exposure to audiences.
---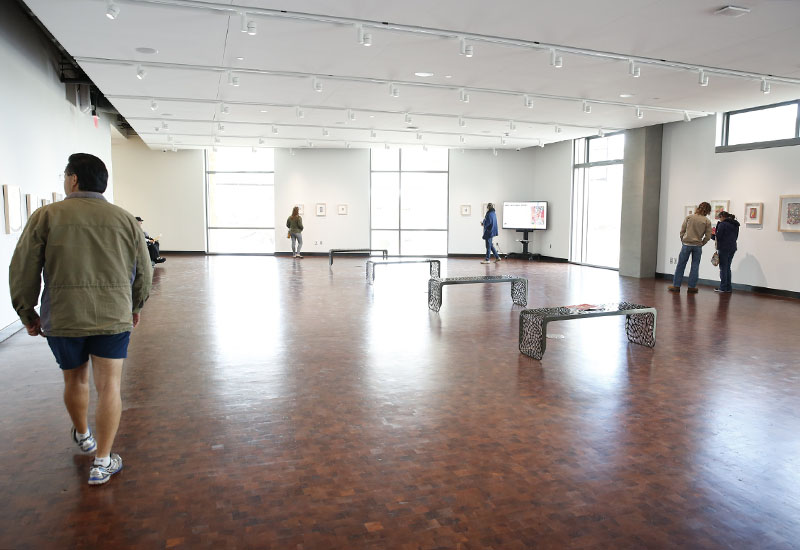 Austin Central Library Gallery
710 West Cesar Chavez St.
On top of the thousands of books the Austin Public Library holds, this beautiful downtown structure is also home to compelling expositions on rotation in its art gallery. Observe the creative expressions in the naturally-lit room overlooking Lady Bird Lake on your next library visit. The pieces on display at this location are not for sale.
---
Austin Art Garage
2200 South Lamar Blvd., Unit J
With a distinctly "Austin" feel, this garage situated on South Lamar sheds a spotlight on the abundant and eccentric local arts scene. Composed solely of works from Austinites, Austin Art Garage offers a wonderful variety of pieces at an accessible price range, encouraging everyone to grow their collection.
---
grayDUCK Gallery
2213 East Cesar Chavez St.
This charming century-old refurbished home in East Austin hosts many thought-provoking contemporary art pieces. Known for its friendly, knowledgeable owners, grayDUCK is an intimate setting for art lovers to experience compelling creations and partake in intriguing discussions.
---
Ao5 Gallery
10000 Research Blvd.
Formerly on South Lamar, the relocated Ao5 Gallery now graces The Arboretum, a multifaceted shopping center north of downtown. Known for high-quality selections of original artwork from all over the world and professional custom framing services, Ao5 is an art collector's dream. Look out for their large collection of pieces from Dr. Seuss.
---
Wonderspaces
1205 Sheldon Cove, Unit 2-A
A remarkable and unconventional exhibition space, Wonderspaces invites the public to not only view the art, but also interact with it. Thanks to innovative technology, attendees can explore different textures, colors, sounds and more at the highly sensory shows. Visitors enter into a new world when they visit Wonderspaces, where they can turn the act of consuming visual art into a fun and collaborative experience.
---
Link & Pin
2235 East 6th St.
A newer gallery concept, Link & Pin prioritizes the artists' own vision. Guests can get a glimpse into the world of the makers with intriguing shows always on rotation, and relatively affordable works available for purchase. In addition, Link & Pin's informative talks and entertaining receptions are not to be missed.
---