Austin's Best Specialty Food Stores
By

Avery Matschek
June 06, 2023
Ever get bored of your run-of-the-mill grocery store? These specialty food stores will mix up your routine with their incredible goods, many of which are locally-sourced, organic and easy to grab and go.
Tiny Grocer
1718 South Congress Ave.
Tiny Grocer is a one-stop shop for a meal and a grocery run thanks to its lineup of incredible locally-produced items and freshly-made food. The shop's delicatessen is turning out fantastic sandwiches, salads, pastries and coffee, and inside the deli case, customers will find classic pre-made items for the taking. The South Congress venue is adorable, and soon, the second Tiny Grocer will open in Hyde Park's iconic former post office building at the corner of 43rd Street and Speedway.
---
Rabbit Food Grocery
2425 Exposition Blvd. Suite A
A vegan's paradise, Rabbit Food Grocery primarily carries products from vegan-owned, organic and cruelty-free producers. With grab-and-go meals, frozen and refrigerated food and fresh produce, Rabbit Food Grocery makes it approachable and exciting to pursue a vegan lifestyle.
---
Thom's Market
Multiple Locations
The very first Thom's sits in an iconic spot on Barton Springs Road, and now Thom's Market has four locations in some of Austin's best neighborhoods. With natural and organic goods, craft beers, boutique wines, pet and outdoor supplies and so much more, this grocery is the answer for your shopping needs. Plus, each store is anchored by a gorgeous antique grocery counter! For an ideal Austin afternoon, pick up a few supplies at Thom's before heading to Zilker Park for an afternoon picnic.
---
Épicerie
2307 Hancock Dr.
All of your French favorites are available at Épicerie, the bistro, bar, café and pâtisserie in north central Austin. The croix counter is the highlight of the Épicerie experience as every pastry is flaky, decadent and tasty beyond belief. The small grocery section includes wine, beer, seasonings, home goods and more.
---
Asahi Imports
6105 Burnet Rd.
3005 South Lamar Blvd., Suite B-105B
This Japanese grocery and gift shop holds all that visitors need for their Japanese grocery checklists, including sake and beer, enjoyable snacks and sweet treats. The Onigiri Corner within Asahi Imports is inspired by the convenience stores in Japan known as "konbini," serving up house-made grab-and-go onigiri, bento boxes and other daily specials.
---
Antonelli's Cheese Shop
4220 Duval St.
No cheese board is complete without selections from Antonelli's Cheese Shop, the Hyde Park favorite that's been around for more than a decade. The store offers fully-made cheese trays, cheese classes and complimentary tastes. Owners John and Kendall Antonelli have created a business that prioritizes quality, sustainability and community, while serving up a curated mix of responsibly-sourced and absolutely delicious cheese.
---
Foxtrot Market
4818 Burnet Rd.
Trendy brands, freshly-made meals and a coffee bar contribute to the convenience of the new-to-Austin Foxtrot Market. The Chicago outpost is rapidly expanding into the Texas market, with a new location on Burnet Road and a spot soon to come at South 1st Street and Annie Street. The popular concept offers in-store pick-up and fast delivery via their mobile app.
---
Con' Olio Oils & Vinegars
10000 Research Blvd., Suite 130
3500 Ranch Rd. 620, #F400
Once you taste the high-quality olive oils available at Con' Olio Oils & Vinegars, you'll notice the difference between the good stuff and the supermarket varieties. The family-owned business employs the "Try Before You Buy" concept in which customers are invited to sip the incredible oils from tasting cups. Plus, the Con' Olio team provides the chemistry and organoleptic profiles of every product, ensuring that everything is sourced from producers that care for the land.
---
Dia's Market
812 Justin Ln.
To elevate your typical grocery run, take your list of need-to-buy items to Dia's Market, where exciting brands are constantly being added to the line-up. Local brands on the well-stocked shelves include Mill-King Market and Creamery, Siete and Celis Brewery. And don't forget to try the tasty prepared foods or check out the Dia's deli menu for a post-shopping snack.
---
Royal Blue Grocery
Multiple Locations
Chances are there's a Royal Blue Grocery near you thanks to its many locales around town, plus one in San Antonio. Specialties range from tacos to hot sandwiches to grab-and-go prepared foods. Every Royal Blue Grocery has a distinct vibe to fit its neighborhood, but each one wonderfully serves its purpose as a bodega, corner store and elegant grocery store.
---
Pasta & Co.
3502 Kerbey Ln.
Who doesn't love a big bowl of pasta?! Pasta & Co. will help you cook a fantastic Italian meal at home with fresh and handmade noodles, available at their Kerbey Lane market and deli. Established in 1983, Pasta & Co. creates rotating ravioli flavors, delectable sauces and frozen pasta dishes like lasagna and manicotti.
---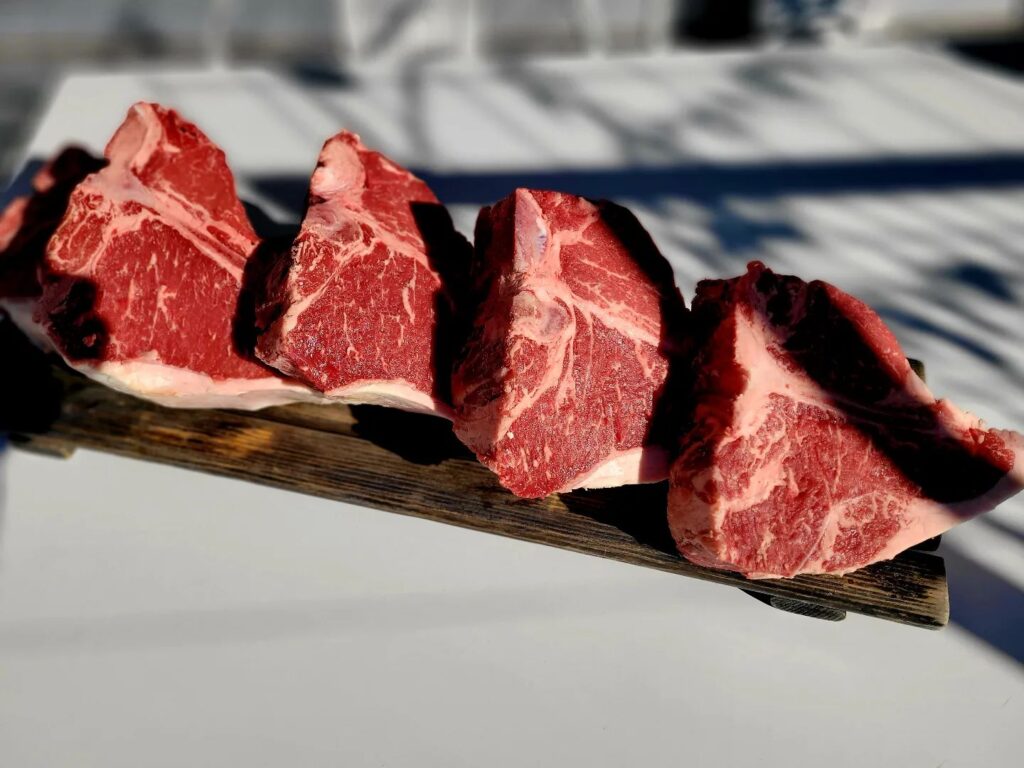 Salt & Time
1912 East 7th St.
A butcher stop, salumeria and restaurant all in one — Salt & Time will completely upgrade your at-home steak night with fresh cuts that are sourced from sustainable Texas ranches. The butchers at Salt & Time cut, age, cure, dry and smoke their meats so that customers get the highest-quality possible. And if you don't want to do any of the preparation yourself, simply grab a seat at the restaurant and enjoy the decadent flavors without any of the work.
---
Dai Due
2406 Manor Rd.
East Austin's Dai Due is home to an impressive deli counter. Products include house-rendered lard and tallow, bone broth, bratwurst, ground beef, baked goods and spices, among other incredible offerings. Guests are also invited to experience the deliciousness of the restaurant, which has ever-changing menus for brunch, dinner and drinks. In addition, the Dai Due team operates the New School of Traditional Cookery in an effort to educate community members to make the most of local foods.
---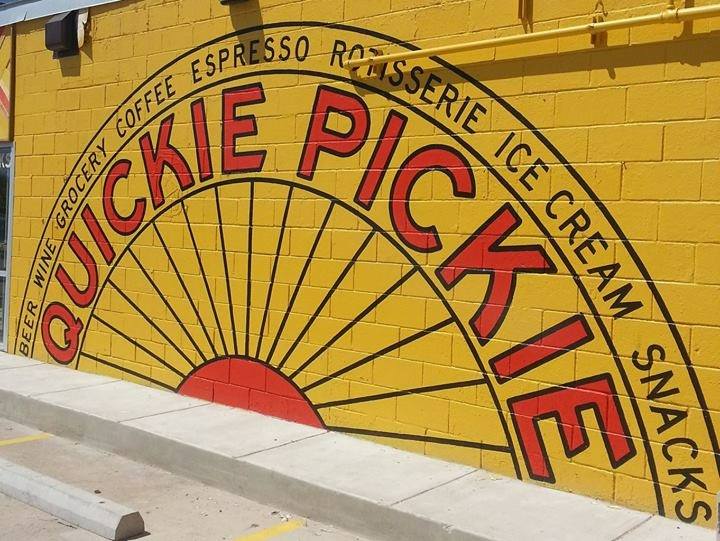 Quickie Pickie
1208 East 11th St.
Make a quick trip to Quickie Pickie to enjoy the full experience of a convenience store, café and beer spot together in one building. Open for more than 25 years, it's a perfect place for the revitalized 11th Street area, offering household staples, a curated selection of groceries, take-out food items and everything in between.
---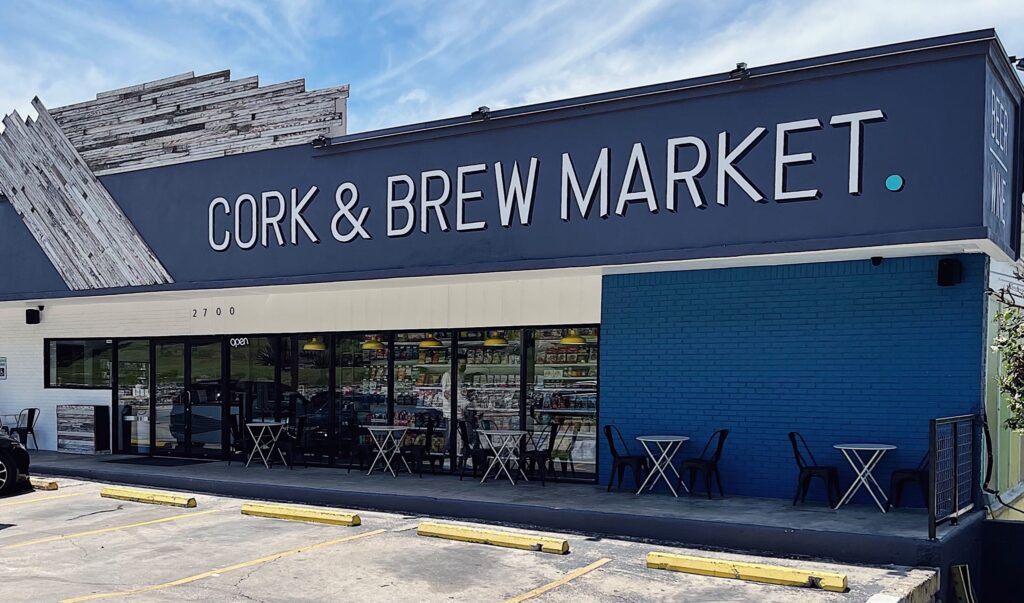 Cork & Brew Market
2700 South Congress Ave.
4410 Menchaca Rd.
Cork & Brew Market recently opened their second spot in the city on Menchaca Road, and the curated inventory offers groceries, snacks, wine and beer, along with freshly-cooked tacos, burgers, coffee drinks and Indian food. The food is fantastic, and the store's in-store offerings focus on high-quality, local products that customers will appreciate.
---
Hudson Meat Market
1800 South Congress Ave.
Flavorful sausage and wild game are the highlights at Hudson Meat Market, located on South Congress. Open for more than 50 years, the market works with many local restaurants on wholesale orders, and offers deer and game processing for customers. With an additional location in Marble Falls, Hudson Meat Market is a great stop for all your carnivorous needs.
---